In Time of Crisis, Sales are Secondary; Decision Supported
by Deirdre B. Biles
Date Posted: 9/11/2001 2:33:58 PM
Last Updated: 9/12/2001 12:44:48 PM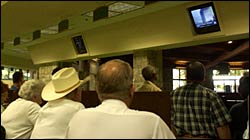 Horsemen watch the television at Keeneland as news of terrorist attacks are relayed to the world on Tuesday morning, Sept. 11, 2001.
Photo: Anne M. Eberhardt

With Keeneland's decision to postpone the second day of the September yearling sale due to the apparent terrorist attacks on New York City and Washington, D.C., many buyers and sellers were left in limbo.Some buyers had to alter their travel plans and consignors had to change shipping arrangements for horses going in and out of Keeneland. But any inconveniences took a backseat to concerns about friends and business associates who might have been victims of the tragedies and the effects of the events on the world.One thing was certain: horses and the sales were secondary. Random comments from those at Keeneland on Tuesday included:Nick Nicholson, Keeneland president: "It was a cumulative decision. When we felt the initial action was isolated, we probably would have gone ahead. And then it's (become) clear this was not an isolated incident. We don't know what the afternoon will bring. The morning has brought enough pain and anguish and senseless tragedy that we thought this was the appropriate thing to do. I didn't enjoy making the decision, but I think it's the right thing to do. To be honest, (business concerns) were not even a factor in the decision. People who love the Thoroughbred, this morning, business is the farthest thing from their mind. It wasn't appropriate to have a horse sale on a day when so many people have suffered. It's not business, it's more about humanity. It's more about humanity than it is business."Cot Campbell, Dogwood Stable: "I have always had great faith in Keeneland's decisions, and I have no reason to deviate from that now. I just learned about it having just been on one of the last airplanes that flew into anywhere, so I haven't absorbed it all. I guess I was expecting the sale to go on, but fully understand why it's not."Eugene Melnyk, buyer: "This is scary stuff. I'm at the World Trade Center a lot. I have clients there. I could have been there."Duncan Taylor, Taylor Made Sales Agency: "This is the first time I experienced something like this. You look down through there (the barns) and you can just see all the people are standing down through there watching TVs. It's got everybody in shock. It's terrible. It's one of these tragedies that's going to be in the news for a long time. You wonder what else is going to happen."Arthur B. Hancock III, Stone Farm: "I think there is a pall over everything. Nobody knows what's going to happen, and it's better to put it off a day. And if necessary, maybe two days. One day for sure, and just see how everything is tomorrow. You don't know at this point what if anything is coming next. It was a great decision in my opinion, and I was supposed to sell today. We had some shows, but you can't expect a lot of enthusiasm. I remember people in England that I talked to some years ago, I think they had the Newmarket sales going on about the time war was declared against Germany and it was the same thing. The yearlings didn't bring anything because people were so depressed. I don't know if you could compare this with that, but this is bad. This is tragic."Ben P. Walden Jr., Gracefield: "It's hard to imagine focusing on anything like horses right now. It's almost like something out of (an) Orson Welles (movie)."Bob Baffert, trainer: "I'm not going to even look at a horse today, I'm so pooped out about it. We don't have all the information coming in yet, but the loss of life has just got to be horrendous, you know. We don't even know that yet. I just hope I don't know anybody that was involved. I called my friends from New York this morning to make sure what they were doing. I know one of them goes to the World Trade Center a lot. You didn't hear anybody say come on we need to have the sale go on. Everybody is in a state of shock basically. It's not fair to the consignors. People were supposed to fly in usually Wednesday or Thursday, they start flying in, so I don't know what it's going to do to this sale."Bill Farish, Lane's End: "How can you conduct a horse sale with the kind of uncertainty that is all around the country? They are urging people not to use their phones. They've grounded every aircraft in the nation. I just don't think we could do something like this in that environment. Everybody is glued to the televisions trying to figure out what is going on and what is going to happen next. It's pretty disconcerting. I would rather not even talk about the horse sale right now."Dan Rosenberg, Three Chimneys: "I don't think anybody is in any mood today to buy horses or to sell horses. It's a turning point in history, and I don't think it's a good day for a horse sale. The mood is somber. It's not just a day like when the space shuttle blew up, this is a turning point in history. We'll remember where we were today. Our grandchildren will be taught about this day in the history books."B. Wayne Hughes, buyer: "The sale is a very minor thing going on here right now. It's unimportant in relation to what's happened. People are dying."Alice Chandler, Mill Ridge Farm: "The agreement was an hour delay, and when the second building came down, yes I think they did the right thing (by calling off Tuesday's session). Beyond us, this is a hell of a tragedy. Awful, awful. But I think if people are around here and they are into it enough that they want to ask to see a horse, I think you are obligated to show. Life goes on, but I think Keeneland did the right thing.Demi O'Byrne, buyer: "I think they had to (call it off). There wasn't any option. Everybody is in a state of shock. It's not easy to concentrate."Dean De Renzo, pinhooker: "I'm a little emotional. I had a sister (Deborah Timmons) who works in that building today, but she's fine and thank God she's fine. But I hadn't been thinking too good this morning. I spoke to my brother-in-law and (he said) she was fine. She wasn't there at work just yet. It's been a terrible morning. We were in the parking lot at Keeneland when we heard. A guy pulled in next to me and said, 'Would you believe a plane crashed into the World Trade Center, two of them?' I said, 'Two, why? There's not going to be two planes crash. This has to be a terrorist thing.' All of a sudden I thought, 'My sister is in there.' My brother-in-law works there, too, but he left at 8:00 a.m. He works nights. He's a supervisor at Con Edison, he works in the basement floors. My sister is a vice president for a financial company. I don't know if I was crying more when I found out she was OK or when I was unsure. I don't think this is a day I could concentrate on horses, and I think that's one of the best reasons for them to cancel the sale. Who really has their mind on pleasure today when there is so much grief in the world? I think I may go home to Florida, just drive home."Satish Sanan, buyer: "I'm not even thinking about the horse sales, to be honest with you. The people in our business offices in New York and California are all concerned about the future and the safety of their relatives and friends. This is a terrible tragedy."



Copyright © 2015 The Blood-Horse, Inc. All Rights Reserved.