Market Talk: Looking Back at F-T's July Sale
by Deirdre B. Biles
Date Posted: 7/19/2010 1:27:48 PM
Last Updated: 7/31/2010 7:43:11 PM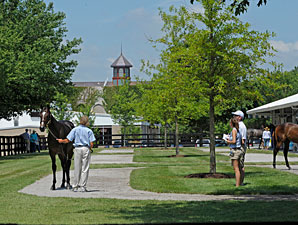 Photo: Anne M. Eberhardt
The setbacks at the Fasig-Tipton Kentucky July select yearling sale weren't as severe as they were in 2009 and the buy-back rate was down significantly. Following are some comments from buyers and sellers about the auction, which was held in Lexington July 13 and 14:
Francis Vanlangendonck, Summerfield: "There were a lot of people buying, but they were very conservative. To get your horse sold, you had to get attention. You had to be careful where you put your reserves. I'm fine with the market as long as it's consistent, and right now I think it's fairly consistent with what the buyers want. They're going with the proven sires.
"Basically, we're just trying to get through the sale without getting absolutely killed. You've got to forget about what you paid for the stud fee, get rid of inventory, and move on."
Robert West, Waterford-Millford Farm: "There are a lot of farms that need to have a good sale or at least unload their inventory. For most people, it's keep your head above water, survive, and hope that things turn around.
"We haven't been swamped with lookers. In years past, you would have two or three people asking for the same horse at the same time, and that hasn't been the case this year. But often, when you had just put one away, another guy would come up and would want to see the same horse, so the traffic has been very steady. I haven't seen quite as many Europeans as I would have liked to have seen."
Kerry Cauthen, Four Star Sales: "I think the market is what we probably throught it would be. Everything that's old is new again. Everybody is running to safety, and people are looking for proven sires. The new sires generally don't have the fire that they used to have, but there are some notable exceptions like Hard Spun and Discreet Cat.
"I think buyers have more confidence because they have some additional level of understanding of where the floor of the market is. They're not looking for the sky to fall, and they're here to buy horses. But they're very careful, extremely careful. I don't think it's all doom and gloom."
Ciaran Dunne, Florida pinhooker, Wavertree Stables: "We thought there was a really nice bunch of horses here, and they're falling right around where we thought they would (in price). We probably had a few more on our short list than we normally would.
"This year was good (at the juvenile auctions). If you had the right stuff, people were willing to pay you for it. It was a question of getting it right and that takes numbers."
Pat Costello, Paramount Sales: "The the freshmen horses (yearlings from their sires' first crops) were a little on the tough side, but today (the second session) wasn't bad. If you brought up a nice horse, it brought plenty of money. But it takes a real nice horse to get the big bucks; the bar is a little higher this year."
Steve Venosa, SGV Thoroughbreds: "It looks like the market has really corrected itself. The prices are fair. It seems like everybody is happy with what they are paying. I don't think anybody who bought a horse really felt like 'Wow! I really had to overpay for that horse.' Those days of ridiculous prices are over for awhile."
Reiley McDonald, Eaton Sales: "It's just as clear as can be. There is very limited demand. People are picking their number (the price they want to pay), they're bidding to their number, and there's very little premium. What will really tell us a lot more (about the yearling market) are the horses at Saratoga (for the Fasig-Tipton select sale in New York) because from what I've seen, it's the best ever bunch of horses coming to Saratoga across-the-board. We'll learn a lot from that experience."
Pete Bradley, Bradley Thoroughbred Brokerage: "I thought it was a solid, but not spectacular, bunch of horses and as usual, it's very hard to buy the obvious nice horses; everybody is on them. But I thought there was good depth to the market. There were a lot of horses here that were $30,000 to $50,000 horses and they were getting traded, so that was good for business."
David Greathouse, Four Star Sales: "Regardless of what the stud fees were, you still have to evaluate what you think your horses are worth and try to get as close to that value as you can. You're probably more inclined to have reduced expectations because you've got to keep the wheel turning. If you're a breeder and you've got 20 yearlings for sale and you go in with aggressive reaserves on them, you are going to end up racing a whole lot of them. You still have to try to judge what you think you can get for your horses, but you can't be aggressive."
Murray Smith, Florida pinhooker: "What I do best is buy athletic horses. I strayed a few years ago and tried to go with a little more pedigree and a little less athleticism, but it bit me in butt. So now I'm going right back to what I've always done. I'm trusting my gut instinct and doing what I love to do and that's buy athletic individuals."
Elliott Walden, WinStar Farm: "I thought it was a solid enough sale. I really did. I think it's like any of the sales now; it's getting a little more defined. People are landing on the same horses."
Copyright © 2015 The Blood-Horse, Inc. All Rights Reserved.