First Day Firepower: Keeneland Sale Begins on Strong Note
by Deirdre B. Biles
Date Posted: 9/10/2001 11:33:20 AM
Last Updated: 9/12/2001 12:46:06 PM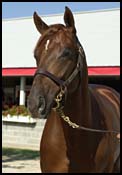 Storm Cat colt purchased by Sheikh Mohammed for $5.5 million.
Photo: Anne M. Eberhardt

Powered by big-spending Maktoum family from Dubai, the Keeneland September yearling sale blasted off like a rocket on Sept. 10. The first of the auction's two select sessions established opening day records for average price and median. In addition, the second-most-expensive horse in the auction's history, a $5.5-million Storm Cat colt, was sold.The biggest disappointment was the buy-back rate, which soared to 36.1%, a substantial increase over last year's figure of 28.8%. It contributed to a decline in gross revenue from 2000's record level."People are very selective and very discriminating; there's no mistake," said Geoffrey Russell, Keeneland's director of sales. "I talked to several consignors who knew early that they were in trouble. Our catalogue was very strong, and we gave a lot of selection to these buyers. They pick and choose pretty hard. Things do fall through the cracks."John Ferguson Bloodstock, representing the Maktoum family's Godolphin Racing, was the session's leading buyer in terms of gross expenditures, paying $10,175,000 for seven yearlings. Sheikh Hamdan's Shadwell Estate Co. ranked second, purchasing six head for $5,575,000. In addition, Sheikh Mohammed's Darley Stud Management bought two for $175,000.Details of the session's statistical trends included the following:--The number sold fell 28.4%, from 218 last year to 156 this year.--Gross revenue slumped 10.7%, from $67,552,000 to $60,331,000.--The average increased 24.8%, from $309,872 to $386,737.--The median grew 25.0%, from $200,000 to $250,000.--The number of individual horses sold for $1 million or more advanced from eight to nine.The $5.5-million Storm Cat colt was purchased by John Ferguson Bloodstock for Godolphin Racing after a long, tense bidding battle. The handsome chestnut was produced from the 18-year-old winning Affirmed mare La Affirmed. He is a full brother to graded/group winners Bernstein, Caress, and Country Cat. Acting on Sheikh Mohammed's behalf, Ferguson purchased Caress (in foal to Coronado's Quest) for $3.1 million at the 2000 Keeneland November breeding stock sale."I like the way he stands; I like the way he walks," said a grinning Sheikh Mohammed, who directed the bidding for the $5.5-million colt. "I think he's athletic, and that was proven because someone else liked him, too."Sheikh Mohammed made his offers while standing near the chute through which horses enter the Keeneland sale ring. The immediate underbidder, Irish veterinarian Demi O'Byrne, huddled with Coolmore managing partner John Magnier and Paul Shanahan in the pavilion next to the press box. Also in the chase late was Prince Ahmed Salman of Saudi Arabia, who placed bids from his usual back-row seat.Asked how far he was prepared to go, Sheikh Mohammed replied: "I would have gone as much as I liked the horse. But I won't tell you how high. It's in my mind. It's a secret."
He said the colt would winter in Dubai, then return to the United States to race as a 2-year-old.Bred in Kentucky by Elizabeth Moran's Pennsylvania-based Brushwood Stable, the colt was consigned by Eaton Sales as agent."We kind of figured he would be over $2 million, but when you get to that point, you're never sure how far a horse will take you," said Eaton Sales' Reiley McDonald. "We thought there were about five guys in the hunt who would give $2 million to $3 million, then three above that who might take it on a bit. He was just such a grand colt. You could see in the ring that he had so much quality and class."Moran did not attend the sale because she was in Canada fishing. She had purchased the colt's dam, La Affirmed, for $1.9 million at the 1996 Keeneland November auction. The mare was carrying Bernstein at the time. Moran sold Bernstein as a weanling to O'Byrne for $925,000 at the 1997 Keeneland November sale. The partnership of Susan Magnier, Michael Tabor, and Moran (who owned a small interest) raced Bernstein.The record price for the Keeneland September sale is the $6.8 million brought by the Storm Cat colt Tasmanian Tiger at the auction's 2000 edition. The buyer was O'Byrne, who outlasted Sheikh Mohammed. A full sister to 2001 Secretariat Stakes (gr. IT) winner Startac brought the first session's second highest price of $2 million. Shadwell purchased the Theatrical -- Tenga filly from Narvick International, agent for The Allen E. Paulson Living Trust.Other prominent buyers included Mr. and Mrs. David Heerensperger of Washington state, Robert and Beverly Lewis of California, and O'Byrne.The sale runs for 13 days through Sept. 22. TOP-PRICED HORSESPrice/Hip/Sex/Sire--Dam/Consignor/Buyer$5,500,000--Hip No. 203, colt by Storm Cat--La Affirmed; consigned by Eaton Sales, agent ; purchased by John Ferguson Bloodstock$2,000,000--Hip No. 35, filly by Theatrical (IRE)--Tenga; consigned by Narvick International, agent for The Allen E. Paulson Living Trust; purchased by Shadwell Estate Co.$1,800,000--Hip No. 171, colt by Storm Cat--Halo America; consigned by Hill 'n' Dale Sales Agency, agent; purchased by D.L. O'Byrne$1,700,000--Hip No. 113, colt by Quiet American--Dancing Mahmoud; consigned by Woodlynn Farm, Inc.; purchased by Jill and Dave Heerensperger$1,500,000--Hip No. 190, filly by Storm Cat--Jetapat; consigned by Eaton Sales, agent; purchased by B.T.A. Stable$1,200,000--Hip No. 67, colt by Kris S.--Alyssum; consigned by Middlebrook Farm, agent; purchased by John Ferguson Bloodstock$1,200,000--Hip No. 74, colt by Kris S.--Aurora; consigned by Middlebrook Farm, agent; purchased by Shadwell Estate Co.$1,200,000--Hip No. 258, colt by Kingmambo--Northern Hilite; consigned by Three Chimneys Sales, agent; purchased by Shadwell Estate Co.$1,000,000--Hip No. 22, colt by Kris S.--Sterling Pound; consigned by Middlebrook Farm, agent ; purchased by John Ferguson BloodstockLEADING SIRES (BY AVERAGE)Rank/Sire/Total/Average/Number Sold
1--Storm Cat--$9,725,000--$1,620,833--6
2--Quiet American--$2,100,000--$1,050,000--2
3--Theatrical--$3,005,000--$751,250--4
4--Kris S.--$4,405,000--$629,286--7
5--Mr. Prospector--$2,500,000--$625,000--4
6--A.P. Indy--$2,730,000--$546,000--5
7--Sadler's Wells--$1,025,000--$512,500--2
8--Seeking the Gold--$1,450,000--$483,333--3
9--Cozzene--$475,000--$475,000--1
10--Touch Gold--$440,000--$440,000--1Live Hip by Hip Results, Leading Sires, Consignors, Buyers



Copyright © 2015 The Blood-Horse, Inc. All Rights Reserved.