Philadelphia Park Race Report: Uno Step at a Time
by Linda Dougherty
Date Posted: 9/6/2001 1:55:40 PM
Last Updated: 9/8/2001 9:08:14 PM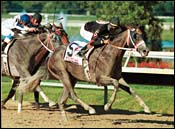 Macho Uno wins Pennsylvania in Joe Orseno's homecoming.
Photo: Bill Denver/Equi-Photo

Published in Sept. 8 issue of The Blood-Horse
Trainer Joe Orseno was accorded a hero's welcome when he returned to Philadelphia Park on Aug. 31 after having last stabled there nearly a decade ago. Everywhere Orseno went--to the annual pig roast on the backstretch, on a tour of the renovated facilities with management--he was warmly greeted by horsemen and fans alike. "I'm the same person I was when I left here," Orseno said. "I'm just working harder with better horses, and I'm under more pressure to win." More pressure, indeed. Orseno's stay in Bensalem wasn't all fun and games. He'd vanned Stronach Stable's Macho Uno down from Saratoga a few days before the $500,000 Pennsylvania Derby (gr. III), a race which he hoped would give last year's 2-year-old champion the first victory of his 2001 campaign. Macho Uno had finished second in his 3-year-old debut on July 25 in an allowance race at Saratoga. Not only did Orseno worry about the colt's safety--driving to the backstretch each night to check on him--but he was concerned about his behavior. Lately, Macho Uno had seemed more interested in romance than racing. At Saratoga, the colt acted "studdish" before the race, laying on the pony and "being antsy," according to Orseno. He decided to try him with blinkers for the Pennsylvania Derby in an attempt to curb his stallion-like behavior. But Orseno's worries deepened when trainer David Vance entered Roger Davenport's Unbridled Elaine in the 1 1/8-mile race, the first filly to ever test colts in the race's 22-year history. Orseno had to wonder what Macho Uno would do in the paddock and during the race. Rather than attracting one standout horse, the Pennsylvania Derby had a strong lineup: Macho Uno, Unbridled Elaine, and Tom Durant's Touch Tone, who almost defeated Point Given in the Haskell Invitational Handicap (gr. I). Completing the field were local stakes winners Trion Georgia and Docent, plus allowance winner Pleasant Divorce. Macho Uno came into the walking ring for the race "all boy," hollering and kicking, then created quite a stir when he became sexually aroused while walking with his groom. He calmed down once jockey Gary Stevens, who was replacing Jerry Bailey, was hoisted into the saddle. Bailey elected to remain at Saratoga to nail down the riding title. After some minor hijinks behind the starting gate, Macho Uno broke smoothly and settled in a stalking position behind Touch Tone, who went to the lead, and Unbridled Elaine, who followed on his outside. The early fractions were soft--:23.98 and :48.68. Orseno said he was not alarmed by the slow pace as he saw Macho Uno running easily for Stevens. Touch Tone maintained the lead around the far turn, getting six furlongs in 1:12.77, but then jockey Rene Douglas nudged Unbridled Elaine closer and Trion Georgia, who had loomed on that pair's outside, started to retreat. Macho Uno was moved to the three-path by Stevens and, with little urging, began to accelerate as the front-runners swept into the homestretch. From the top of the stretch home, it was a scramble between the Big Three: Touch Tone grimly holding onto his ever-shrinking lead; Unbridled Elaine sticking her gray nose in front approaching the eighth pole, and Macho Uno in the middle of the racetrack, gobbling up ground furiously. Without cocking his whip, Stevens steered Macho Uno past those two and, according to the official chart, "was never asked for his best," winning easily by 1 1/2 lengths in 1:49.69. The filly held second while Touch Tone bravely finished third. "I had a lot of horse left," said Stevens. "He was very professional and he showed no signs of playing around. I came into the stretch with a handful of horse." "He did everything right today," said Orseno, who indicated Stevens would get the return call in his next start, the Ohio Derby (gr. II) at Thistledown, then get his choice between Macho Uno and Red Bullet in the Breeders' Cup Classic (gr. I). "And he's going forward at the right time of the year." Said Stronach in the winner's circle: "It's obvious he's a great horse. We were tempted to run in the Kentucky Derby, but decided to give him time, and we were proved right."



Copyright © 2015 The Blood-Horse, Inc. All Rights Reserved.