F-T Midlantic: It Was An 'Incredible' Sale
by Deirdre B. Biles
Date Posted: 5/21/2010 10:12:34 AM
Last Updated: 5/24/2010 2:17:09 PM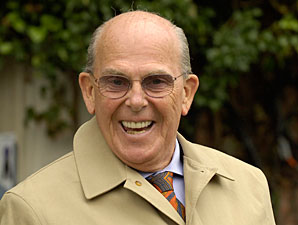 Buzz Chace, New Jersey bloodstock agent
Photo: Anne M. Eberhardt
The Fasig-Tipton Midlantic sale of 2-year-olds in training was one of the best auctions so far this year. Its gross, average price, and median price all increased from 2009, and its buy-back rate was astonishingly low.
Following is what buyers and consignors had to say about the auction, which was held May 17 in Timonium, Md.:
Buzz Chace, New Jersey bloodstock agent: "It's a good sale. There is a lot of enthusiasm here; a lot of people are buying horses at all different prices. Everybody wants horses now. It's all turned around (for the better) it looks like to me."
Shari Eisaman, Eisman Equine: "I believe that the interest (in buying) is way improved over last year, especially for our decent horses. They (buyers) are paying a little bit more for our better horses than they would have last year. Some people are putting little syndicates together – five or six guys – and their trainer is coming in and buying for them. That has helped a little bit. Some of the talk here is about the (lucrative) purses at Monmouth and people are excited about them."
Joe Appelbaum, Off the Hook: "I think it's the continuation of a market trend. Good horses are attracting a lot of money and certainly the (greater) strength in the economy is helpful. After the last couple of years, which includes the success of Informed Decision, people know that there are good horses in this sale and aren't afraid to spend for them. The contraction of the supply (of sale 2-year-olds) has probably caught buyers off guard a little. It's late in the year (for juvenile auctions) and they don't have any product to sell to their clients.They need some horses even if they've got to go (bid) $20,000, $30,000, or $40,000 more than they want to."
Debbie Easter, Virginia bloodstock agent: "Maybe people are feeling better about the economy. It feels like there are more people here, but it might be because of the rain (which drove people inside during the auction)."
Bo Hunt, Florida pinhooker: "This is a very strong sale. It's difficult to buy horses. The Koreans really have helped things. Because of them, all the horses have a bottom of like $20,000. The economy is doing better, but, overall, people just still need horses, especially in this region where there are so many tracks."
Peter Bradely, Bradley Thoroughbred Brokerage: "Critical mass is important (to the success of the sale). They have enough horses here so everybody shows up. At the boutique sales that have 200 horses, the top end guys show up, but the middle and lower guys don't. You have a lot of horses that don't have all the bells and whistles, and there is nobody for them. It's just a free fall. Also, horse people are the most resilient people in the world. They love the game and they show up in spite of the problems our indstry has."
Marshall Silverman, Pennsylvania horseman: "It's a great sale. It's the best 2-year-old sale I've seen in years. There are good horses here, and the economy is picking up. I've got some really good yearlings for July (in Kentucky), Saratoga, and for here -- especially here -- so I'm just hoping all these guys do well so they come back and buy some good yearlings and help the yearling market."
Susie Hart, Virginia horsewoman: "My husband (Dr. Pug Hart) said he has never done this much vet work at any Timonium sale ever. We have some people who have called and given him short lists and we had someone who actually called this morning and said, 'Buy me three horses,' and we're having trouble getting them. It's a really good sale. I think people have learned they can come to this sale and get a good horse. Look at what's come out of this sale. But it's also (almost) the last sale (of the season), so the 2-year-old guys, if they don't sell their horses here, they have to go to the races with them, and they don't want to do that. A lot of buyers know the consignors are here to sell. It's a one-day sale, and you can buy horses from $5,000 to $500,000. There is something for everybody. The Koreans are playing hard, and they're taking care of the lower end. The sale also has a pretty darn good catalog. We've been looking at the horses, and I've been telling all the Fasig-Tipton guys when I see them that it's probably the best group of horses we've seen."
Mike McMahon, Kentucky bloodstock agent and pinhooker: "The one-day format is very good for compressing the sale and making everybody do things. Everybody's cell phone is out of batteries, and we're all trying to get our work done. In the past (when the sale was more than a day in length), people would sit and wait until tomorrow. They'd say, 'We'll look at the RNAs tomorrow, and there will be plenty. Don't worry about it, it's Maryland.' It (making the auction one day) is a good change. It's been an incredible sale."
Copyright © 2015 The Blood-Horse, Inc. All Rights Reserved.