Moneigh Auction Up and Running for ReRun
Date Posted: 4/26/2010 9:48:36 AM
Last Updated: 4/27/2010 8:36:18 AM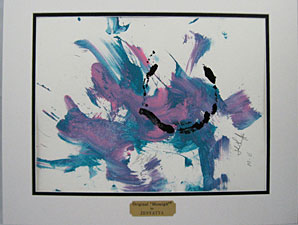 Moneigh® Painting by Champion Zenyatta.
ReRun, a nonprofit Thoroughbred adoption program, is currently holding its spring auction of Moneigh paintings on eBay. The 30 paintings are created by famous equine artists such as Zenyatta, Life is Sweet, Cigar, Funny Cide, Evening Attire, Da Hoss, and others using their muzzles, whiskers, hoofs, and tails.Funny Cide and Cigar actually paint by holding a paintbrush in their mouths.

Each Moneigh is an original, abstract painting. The auction runs through May 2.

"The Moneighs continue to be popular with racing fans and are critical to providing needed funds to support Thoroughbreds awaiting adoption in our program," said Jane Gilbert, president of ReRun, which maintains chapters in New York, New Jersey, Kentucky, and North Carolina, and is the onsite program for retired racehorses at Monmouth Park.

For more information, go to www.rerun.org or to view the Moneighs up for auction, visit http://art.search.ebay.com/moneigh
Copyright © 2016 The Blood-Horse, Inc. All Rights Reserved.