Oak Tree Would Welcome Breeders' Cup Move
by Jack Shinar
Date Posted: 4/21/2010 7:25:33 PM
Last Updated: 4/22/2010 9:38:51 AM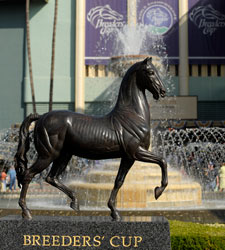 Photo: Anne M. Eberhardt
The Oak Tree Racing Association isn't pushing the Breeders' Cup to place its championship event at Santa Anita Park on a permanent or semi-permanent basis, but it will welcome the move if it comes, its executive vice president said April 21.

"Our position is that we want to accommodate the Breeders' Cup, but it was their idea," said Oak Tree's Sherwood Chillingworth. The not-for-profit meet hosted the two-day event successfully in 2008 and 2009.

The Breeders' Cup board of directors is reportedly planning a "host site discussion" April 22, although it is uncertain if a decision will be immediately forthcoming. Although Breeders' Cup officials have said that the organization has considered designating Santa Anita as a permanent host site for the next five years beginning in 2011, it is also considering a three-track rotation that includes Oak Tree at Santa Anita, Churchill Downs and Belmont Park.

"They (the Breeders' Cup) apparently have a report, and I have not seen it, that shows that the only way they are going to be able to increase revenue for the event is to have it placed in one spot," said Chillingworth, who compared it to the Kentucky Derby. "When you think of the Kentucky Derby you don't think of it being at Turfway Park or Keeneland. You know it's at Churchill Downs. You are used to having it at the same place. It becomes part of that (venue), and it helps build the event's popularity by being in the same place every year.

"Basically, our mission statement is to do what's best for the industry," Chillingworth added. "Our position is we're going to do what's best for horse racing, and if the intelligent people who are on the Breeders' Cup board decide that this is best for the industry, that's what we'll do."

The permanent site plan has come under fire from rival racing executives and some of the industry press, especially in Kentucky and New York. One Kentucky horse racing blogger recently said the move would be "fundamentally catastrophic" to the sport.

Chillingworth said he prefers not to discuss the criticism the proposal has received, saying, "I assume the Breeders' Cup has taken it into consideration."

A bill in the California Legislature would authorize the California Marketing Committee, a private statewide marketing organization established to promote Thoroughbred racing, to partner with the state's Tourism Commission to help publicize and sponsor the Breeders' Cup. It was passed on a unanimous vote out of the Assembly Governmental Organization Committee April 21. The bill, by Assembly Speaker John A. Pérez (D-Los Angeles), provides that the level of assistance must be a minimum of $2 million.

"The Breeder's Cup is one of the most prestigious events in horse racing, and will bring hundreds of jobs and millions of dollars to California's economy," said Pérez in a statement. "Between our weather, our superior racing facilities, media exposure and numerous tourist attractions already here, California is clearly the best location for a permanent home to the Breeder's Cup."
Governor Arnold Schwarzenegger supports the measure, AB 2414. "I applaud the Speaker's efforts to encourage the Breeders' Cup to permanently hold the Championships in California," said Schwarzenegger in the statement. "These events give us a chance to showcase our beautiful state to the world. The Breeders' Cup also gives us a chance to support horse racing, an important agricultural and entertainment industry for the state of California."
Oak Tree hosted the Breeders' Cup in the prior two years, the first time in the 26-year history of the event that it was held consecutively at the same venue. Held in the final weekend of October or the first weekend of November, it has often experienced dreadful weather when hosted outside of Southern California. But that was not the case in the past two years.
"We had a great Breeders' Cup in 2008," Chillingworth said. "In 2009, by most accounts and that's not just me speaking but even in the Eastern press, they said we had the best Breeders' Cup that has ever been put on. It made ESPN's list of top events of the year."

He said the "experienced crew" at Santa Anita also takes much of the guesswork out of running such an event, which drew 96,496 for the two days in 2009. "That's not to say other tracks could not do the same thing. There is a cost savings in having a group that has done it before and knows the intricacies," Chillingworth said.

The issue over Santa Anita's main track, a synthetic surface manufactured by Pro-Ride, will never be satisfied in the minds of many horsemen, Chillingworth admitted. But he noted that the track performed well in both Breeders' Cups.

"Not one horse was injured racing on the artificial surface," he said. "I'm not talking about catastrophic injury. I mean an injury of any kind."
Copyright © 2015 The Blood-Horse, Inc. All Rights Reserved.