Graded Earnings Update as of April 10
by Blood-Horse Staff
Date Posted: 4/10/2010 9:45:05 PM
Last Updated: 4/13/2010 2:16:07 PM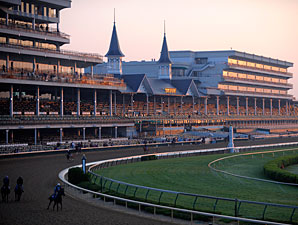 Photo: Anne M. Eberhardt
The top two finishers in Saturday's Toyota Blue Grass Stakes (gr. I; Stately Victor and Paddy O'Prado ) and Arkansas Derby (gr. I, Line of David and Super Saver ) are now positioned within the Top 20 of the graded stakes earnings list that determines the prospective field for the May 1 Kentucky Derby Presented by Yum! Brands (gr. I). Meanwhile, the results of Saturday's "Road to the Kentucky Derby" prep races now leave Jackson Bend, Aikenite , and Make Music for Me on the outside looking in.
The $2 million guaranteed Derby has been restricted to 20 starters since 1975. Graded stakes earnings accumulated in races on the "Road to the Kentucky Derby" have determined the field for the 1 ¼-mile classic since 1986.
Surprise victories by 17-1 longshot Line of David ($600,000) and 40-1 outsider Stately Victor ($451,112) in the Arkansas Derby and Blue Grass, respectively, shook up the prospective field. Both needed victories to secure spots in the Derby starting gate. Line of David vaulted to No. 5 in a tie with early Kentucky Derby favorite Eskenderaya, the runaway winner of both the Fasig-Tipton Fountain of Youth Stakes (gr. II) and Wood Memorial (gr. I). Stately Victor, who began the day with just $1,112 in graded stakes earnings from a sixth-place finish in last fall's Dixiana Breeders' Futurity (gr. I), jumped to No. 9.
Super Saver ($363,832), who began the week at No. 25 with $163,832, earned $200,000 for his runner-up neck defeat in the Arkansas Derby to climb to No. 14. Paddy O'Prado ($250,950) entered the Blue Grass with $100,950 and needed to run first or second to crack into the Top 20. The $150,000 second prize jumped his earnings to $250,950, which ranks at No. 19.
Get valuable insight into the pedigrees of this year's Triple Crown contenders with the special report package,
Triple Crown 2010 Pedigree Profiles
. Includes exclusive pedigree analyses, Past Performances, sire analysis by racetrack, & more!
Earnings for the last horse in the Kentucky Derby starting gate have varied year to year. Last year, it took only $55,500 for Nowhere to Hide to complete the 20-horse field. Two years ago, the last horse in was Denis of Cork who had $165,000 – the highest total ever for the last spot in the field. Amazingly, this year's No. 20 "bubble" position is held by Homeboykris with $250,500.
Last ditch efforts to make the Kentucky Derby field can also be made in next Saturday's $300,000 Coolmore Lexington Stakes (gr. III) at Keeneland (1 1/16 miles) as well as the $200,000 The Cliff's Edge Derby Trial (gr. III) at Churchill Downs (one mile) and $150,000 Withers Stakes (gr. III) at a mile at Aqueduct April 24.
Trainer Rick Dutrow Jr. has said that D' Funnybone ($420,000) "will not run in the Derby" but could be aimed at the Preakness (gr. I). Also, his Radiohead($196,332) will target the $175,000 American Turf (gr. IIT) at 1 1/16 miles on turf on Oaks day at Churchill Downs.
Here's the Kentucky Derby 136 graded stakes earnings leaders list through April 10, which is based on known intentions or a consideration to run in the Kentucky Derby (with last week's ranking on the graded stakes earnings list):
Rank, Horse, Earnings (Next start if not Kentucky Derby)
1, Lookin At Lucky, $1480,000
2, Noble's Promise, $738,000
3, Rule, $645,000
4, Sidney's Candy, $630,000
5, Eskendereya, $600,000
6, Line of David, $600,000
7, Mission Impazible, $473,434
8, Ice Box, $457,500
9, Stately Victor, $451,112
10, Endorsement, $400,000
11, Conveyance, $386,000
12, American Lion, $378,000
13, Dublin, $373,208
14, Super Saver, $363,832
15, Discreetly Mine, $340,000
16, Dean's Kitten, $326,475
17, Interactif, $307,950
18, Awesome Act, $285,000
19, Paddy O'Prado, $250,950
20, Homeboykris, $250,500
On the outside looking in, as of April 10, 2010
21, Uh Oh Bango, $237,952
22, Jackson Bend, $230,000
23, Backtalk, $225,916
24, Aikenite, $221,750
25, Make Music For Me, $218,750
26, Odysseus, $183,750
27, A Little Warm, $180,000 (tie)
27, Setsuko, $180,000 (tie)
29, Pleasant Prince, $166,250
30, Tempted to Tapit, $156,000
31, Caracortado, $153,000
32, Yawanna Twist, $147,000 (Preakness Stakes)
33, Connemara, $138,500 (Coolmore Lexington Stakes)
34, Schoolyard Dreams, $137,500
35, Northern Giant, $132,000
36, Eightyfiveinafifty, $120,000 (The Cliff's Edge Derby Trial)
37, First Dude, $97,500
38, Alphie's Bet, $90,000
39, Drosselmeyer, 487,000 (Coolmore Lexington or Preakness)
40, Pulsion, $85,000


Copyright © 2015 The Blood-Horse, Inc. All Rights Reserved.