OBS February Sale: Should it Be Kept?
by Deirdre B. Biles
Date Posted: 3/30/2010 3:43:13 PM
Last Updated: 3/31/2010 8:45:34 AM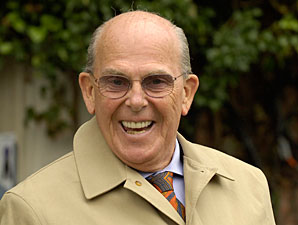 Buzz Chace, New Jersey bloodstock agent
Photo: Anne M. Eberhardt
The Ocala Breeders' Sales Co. February select sale of 2-year-olds in training in Central Florida has a reputation for producing good runners, with a long list of standout graduates that includes Decelerator, Macho Again, Negligee, and Wait a While. But the size of its catalog keeps shrinking, which puts the future of the auction on shaky ground.
Following this year's edition of the sale, OBS chairman of the board, Mike O'Farrell said, "What the future holds for this particular sale, I don't know." He added that sale company officials and consignors would have to wait and see what happened this year at other auctions and how sellers fared overall before making a decision about 2011.
Following are some opinions from buyers and consignors about what should happen to the February auction:
Buzz Chace, New Jersey bloodstock agent: "I think it would be a lot easier on everybody if they didn't have it. The March sale is such a good sale, and they could have maybe a preferred day in it or something like that. I would like to see them not have it just because it would cut down on my travel."
Niall Brennan, Niall Brennan Stables: "It's been a sale that has produced a high number of stakes horses, and it's had the spot of being the first sale for a long time. If you give it up, it will be very hard to start it back again. Just because we're faced with slightly tougher times, I don't think we should give it up. It would be nice to be able to maintain the sale because it's traditionally been a good sale."
John Moynihan, Kentucky bloodstock agent: "I don't know the answer. There have been a lot of good horses come out of that sale. But the first argument you think of (against it) is it's awful early to be selling a 2-year-old. In order to get them to do that (be ready to work an eighth of a mile) in February, they've got to be doing a lot by the first week of January and that's not necessarily the same thing you would be doing with horses that you would be running yourself.
"It seems to me that the quality of the March sale has started to eclipse the quality of the February sale. When you get to that kind of a scenario and with the numbers being so low, you may need to think about combining the two sales and having only a sale in March. That's something that the sale company has got to evaluate.
"I'm always afraid the sale that I don't go to will have the horse that I want to buy in it. I'm going to shop at every sale because I think you don't do the people you work for justice unless you do that. But if I went there (the OBS February sale) two years in a row and couldn't find a horse that I liked, then the third year, I might reconsider. But there were definitely nice horses in that sale this year. There was no question that they were nice."
Becky Thomas, Sequel Bloodstock: "I'm not saying OBS is or isn't going to have the sale, but I think it (ending the February sale) is a transition to look at. I would love to sell at a later time, and the March sale gives us a little bit more time to prepare. Not having the February sale would give us one less sale to go to. While OBS is right in our backyard, you still have to have two sets of staff when you are doing a sale. You have to train horses in one place and be at a sale at another."
Terry Finley, West Point Thoroughbreds: "It's a tough call. I don't have a strong feeling one way or the other. I do know there have been a lot of good horses come out of that first sale, and I think it's indicative of the horses having kind of been able to stand up to the added pressure early. But if you put me on the spot, I'd kill it and have a two-year trial and see how it goes. I wouldn't say, 'Never have it again;' I would evaluate it. It's getting close to being too small."
Ciaran Dunne, Wavertree Stables: "Believe me, when they talked about doing away with it last fall, I was one of most vocal in saying, 'We have to have it.' It's a sale that has been very good to us. But other consignors just don't seem to want to go there. I guess the earliness is the excuse they use. For me it's always been the easiest sale to get horses ready for because they either make it or they don't. You're not trying to juggle any dates or set them up, you're just trying to get there and the ones that get there, get there. But unless the book gets bigger, buyers aren't going to come. My hat's off to the people who came from California this year when there were so few horses that went through the (sale) ring."
Andrew Cary, Thoroughbred Futures: "I think a lot of good horses come out of that sale, so it's hard to just say, 'Do away with it.' It's good to have that option for buyers because you can buy precocious horses there, give them a little bit of time off, and then bring them back to run as early as April at Keeneland. A little bigger catalog would be nice, but I don't know if adding 30 of the wrong horses would be a good thing in the long run. It's tough on the 2-year-old guys because they want to give their horses the time to perform the best, so if they wait until March and April to sell them, it's probably better for most horses. But for the right horse, it's still a good sale. It still has its place."
Dean De Renzo, Hartley/De Renzo Thoroughbreds: "Kill it. I just think it's hard to go to a sale that early. I don't like to have to get horses ready that early. There is a difference in just a few weeks with these young horses. I think the OBS March has great timing and I would even love to see it a little bit later."
Copyright © 2016 The Blood-Horse, Inc. All Rights Reserved.