Autistic Boy Connects With Zenyatta
Date Posted: 3/25/2010 6:56:16 PM
Last Updated: 3/26/2010 10:55:22 AM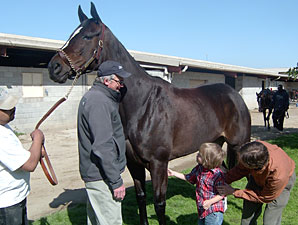 Jack visits with Zenyatta as trainer John Shirreffs (left) looks on.
Photo: Grant Hays
(from Santa Anita release)
Trainer John Shirreffs says Zenyatta, perfect in 15 races heading toward her next likely start in the Apple Blossom Handicap (gr. I) April 9, has "evolved into something much bigger than we ever imagined."
"That's what I tell people," Shirreffs said of the undefeated 6-year-old mare who gave the trainer his fifth Santa Margarita Invitational Handicap (gr. I) victory March 13 with a scintillating last-to-first burst for her 15th straight win. The daughter of Street Cry breezed six furlongs under regular rider Mike Smith at Hollywood Park March 25 in 1:14.60 for Oaklawn Park's Apple Blossom.

"She didn't start out taking it all in and doing her little dance and all that stuff. As she raced, she just evolved into something entirely different."

Among her qualities are patience and understanding. Shirreffs told the story of Jack, a 5-year-old boy with autism who became one of Zenyatta's biggest fans. Autism is a disorder that affects development of the brain. People with autism have problems talking and understanding, and they usually have poor social skills. But Zenyatta goes with the flow.

"Jack zeroes in on Zenyatta," Shirreffs said. "He pushes on her with his finger. He doesn't know how to pet her, but he wants to touch her, so he takes his finger and goes like this (poking gesture), and then starts screaming really loud, to express his happiness.

"I told Jack it was all right. Zenyatta didn't even flinch."

Jack is the son of Grant and Greta Hays and was taken along with his father to Zenyatta's Hollywood Park home by Jay Privman, national correspondent for Daily Racing Form.

"Jay does a radio show (Thoroughbred Los Angeles) on the station I work at (AM 830, KLAA)," said Grant Hayes. "It was a great experience, it was so awesome, it's hard to put into words. Jack lives in a distant world and Zenyatta brought him out of that world and into ours. If I mention Zenyatta or one of John's other horses, Winston, he just starts to glow with happiness and he jumps up and down.

"He was extremely happy during the visit. We haven't seen that much joy in him, ever. It was truly miraculous, and when we got home, he was more focused than he's ever been. He was just tuned into our family like never before. We just can't thank John enough. He was so genuine and kind to my son."

Copyright © 2015 The Blood-Horse, Inc. All Rights Reserved.