KY Horse Industry Aid Bill Derailed--Again
by Esther Marr
Date Posted: 3/17/2010 1:23:55 PM
Last Updated: 3/18/2010 3:13:27 PM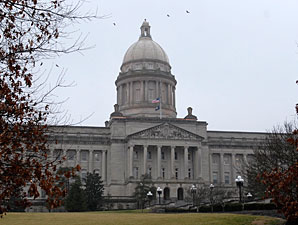 Photo: Anne M. Eberhardt
Legislation to aid the horse industry in Kentucky may be dead after developments in the state capital March 17.
The Senate Committee on State and Local Government opted not to take action—or even discuss—amendments to legislation that would have provided purses and breed development with 1.5% of Instant Racing revenue. The committee was expected to vote on the measure, which was revised from last week to strip language that would have approved Instant Racing by statute.
Republican Sen. Damon Thayer, who chairs the committee, said after the meeting opposition from anti-gaming groups has sprung up in recent days, and he believed he shouldn't move the bill forward. Only six days prior, the same Senate committee passed the legislation—including the statutory authorization—on a bipartisan 11-1 vote.
"I felt very good when this bill came out of committee last week," said Thayer. "It got momentum, and it seemed like we had the bipartisan support to move the bill forward as a solution to offer some help and hope for the horse industry. But over the last few days, the anti-gaming coalition rallied against the bill—they feel its expanded gambling--and this late in the session, it threw everything into a very tumultuous situation."
According to published reports, Republican Senate President David Williams, who earlier said the measure had bipartisan support, in the last few days recommended it be altered. He prefers to have Democratic Gov. Steve Beshear sign an executive order or the Kentucky Horse Racing Commission approve new pari-mutuel regulations.
Given the Senate's unwillingness to take action on aid for the racing industry, it appears unlikely the House of Representatives would do so.
While the legislation isn't officially dead, Thayer admitted it had some "serious challenges" going forward. In addition to those who oppose Instant Racing because they consider it to be a form of expanded gaming, there are others who simply don't support it due to a lack of knowledge about what it is.
Thayer said he has considered orchestrating an educational hearing about Instant Racing in the future so more Kentuckians can learn the specifics about the machines, what they look like, and how they have benefitted Oaklawn Park in Arkansas for the past decade.
Thayer also said the tracks, which have been relatively silent on Instant Racing, opposed another provision in the bill that would place a 1.5% tax on advance deposit wagering. Reasons for the opposition haven't been made public.
"There is no tax currently paid on ADW wagers—we were trying to put a tax on that and direct it straight into the purses for the industry," said Thayer. "That's fair and appropriate, because there's a margin the ADW companies are getting that aren't going back to the horsemen who put on the show."
With only a few weeks left in the current General Assembly session, it again appears no aid for the horse industry will be forthcoming. Several bills have been introduced, only to die in committee.
"There's still time…I would just recommend prudence and caution by all those commenting on (Instant Racing), because it's not over until it's over," Thayer persisted. "I've been talking about Instant Racing for years and have been dismissed by racetrack presidents that said it wasn't enough (revenue). So I'm glad they've now come on board and see how this is a viable part of the solution. We have advanced the debate, but I think (the continued opposition) proves how difficult this expanded gambling issue is in Kentucky."
Tom LaMarra contributed to this story
Copyright © 2015 The Blood-Horse, Inc. All Rights Reserved.