Participants on Forbes' Billionaires List
by Blood-Horse Staff
Date Posted: 3/11/2010 9:53:55 PM
Last Updated: 3/12/2010 10:22:13 AM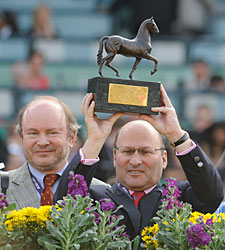 Alain and Gerard Wertheimer, who own the great mare Goldikova, are 93rd on Forbes' list of billionaires.
Photo: Skip Dickstein
Forbes released its annual list of billionaires March 11 and several persons on the list of the world's wealthiest individuals are involved in the Thoroughbred industry.
Alain and Gerard Wertheimer were the top-ranked owner/breeders, with Forbes listing the brothers, who inherited the family's company, Chanel, as being worth $7.5 billion. That placed them 93rd on Forbes' list.
Others on the list are:
232. B. Wayne Hughes, Public Storage, owns Spendthrift Farm in Kentucky, $3.9 billion
287. Walter Haefner, software, owns Moyglare Stud in Ireland, $3.3 billion
488. Philip Niarchos, art collection, oldest son of the late owner/breeder Stavros Niarchos, $2 billion
536. Jess Jackson, Jackson Family Wines, owns Stonestreet Stables and Stonestreet Farm in Kentucky, $1.9 billion
721. Bob McNair, sold Cogen Technologies, owns Houston Texans, sold Stonerside Farm and Stonerside Stables last year to Darley but still owns stallions, Cogen, $1.4 billion
773. Gerald Ford, banking, owns Diamond A Farm in Kentucky, $1.3 billion
828. Charlotte Weber, Campbell Soup, owns Live Oak Stud in Florida, $1.2 billion
880. Julio Bozano, banking, owns several farms in different countries, $1.1 billion
880. George Steinbrenner, New York Yankees, owns Kinsman Stable and Kinsman Stud in Florida, $1.1 billion
880. Kenny Trout, sold Excel Communications, co-owns WinStar Farm in Kentucky, $1.1 billion,

Copyright © 2015 The Blood-Horse, Inc. All Rights Reserved.