'Beautiful' Relationship Between Mare and Trainer Nears End
Updated: Friday, November 9, 2001 1:30 PM
Posted: Friday, August 24, 2001 6:33 AM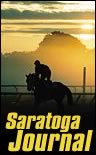 By Sean ClancyFrom The Saratoga Special, reprinted with permission
Saratoga's full of constants. The same streets. The same restaurants. The same routines. That's why it's so consuming.Every day for the past four summers or so, Beautiful Pleasure and Donna Ward pace their way around the Oklahoma training track at the end of the morning. It's a relationship that never breaks. Bends, for sure as one day the giant bay mare is pleasant, other days, she may as well be Medusa.One morning, Ward has her feet kicked out of the stirrups and they're hobbying around like two old farm girls. The next day, Beautiful Pleasure puts it on tumble dry and has Ward stretched to her limits. This is the last summer for those sessions. It's like closing down Sperry's. Or sinking the canoe. Beautiful Pleasure will most likely be a mother next summer. Ward will miss her child, that's for sure. But as wise men have uttered for thousands of years, life goes on. Beautiful Pleasure makes her last start at Saratoga today in the Personal Ensign. The 6-year-old mare has run twice this year, both disappointing efforts for a former Eclipse Award winner. Her first start came in the Hempstead at Belmont where she led briefly and tired to finish seventh, beaten seven lengths. She came back in the Go For Wand and freaked, leading by 12 lengths at the second call before faltering again and finishing fifth, beaten seven and a quarter lengths.Ward, assistant to her husband John, sat on a bench just outside the tack room while Beautiful Pleasure cooled out on Tuesday morning. "What am I going to do when she's not a part of my life?" Donna said. "Look at her. Now she likes peanuts. Loves them. She's good. Had two really good works on the training track."Funny thing when a horse becomes a pet. Donna talks to her from the bench and Beautiful Pleasure answers her with a stretched out head and a set of eyes that say let me over there where all the people are. Or at least where the peanuts are. "It'll be different without her. But, what would be the alternative this
year? She'd be standing out in the hot sun fighting flies because in all probability she would have slipped like all those other mares did," Donna said. "She's going to be a very unhappy horse when she's turned out. It's going to be hard for her not to have that attention. If she could magically have a foal next to her, that would be great. Hopefully by the end of this year she'll say she's had enough of us."Hard to imagine, really. This is a soothing place to spend an hour. Monarchos is a couple of stalls away. His belly is refreshing. Say You Say Me, little big sister to Pyramid Peak is there as well. Here's Tribute gets his heels cleaned. Horse flesh is everywhere.
None of it like Beautiful Pleasure. "I wish this race was a mile and eighth but it's not. I've done a lot of hard galloping with her. What she's lacking now is not speed but endurance. So that's what we're trying to build on," Donna said. "It was a much faster recovery this time. I hope I've added to the strength. Part of it last time was when (Secret Status) tried to break through the gate, she thought she was breaking too and bonked her head pretty good. When the gates opened, she was on her way. I think she'll be more reasonable this time. She thought she
could do it. She felt fat the first time she ran. Hopefully when the records go in and she's a broodmare it won't say, 6-year-old year was too fat. Hopefully she'll be a broodmare a lot longer than she was a racehorse and she'll be a sound, happy broodmare." Beautiful Pleasure has a barrel on her like a bull. She's leaner than she was for her first start this year, you can see that as she walks under the trees. Her eye has never changed. She takes on both winners of the Hempstead and Go For Wand. Critical Eye, trained by Scott Schwartz, won the Hempstead by a neck but came back and finished sixth in the Go For Wand. Serra Lake was fourth in the Hempstead and won the Go For Wand for Shug McGaughey. John Kimmel sends out Pompeii, second in the Go For Wand. Canadian shipper Catch The Ring meets these horses for the first time for Mark Frostad. Todd Pletcher sends out Glens Falls winner Irving's Baby. Under The Rug, two for three this year, has trained here all meet for Jimmy Murphy.
It comes down to seven quality fillies and mares taking a shot at $400,000 and grade I black type. Ward talked about Lake Placid winner Snow Dance and Beautiful Pleasure. Two classy fillies with ways of their own. Like any good woman. "Who knows what makes these fillies think. That's part of what makes them good. My theory is why try to destroy it. It's so tough to be a really good filly. When they have that spark there's usually a way to work around it. For each horse you have to figure out the most effective way they run and how they want to run. It's hard to say why each one does it," Donna said. "I guess I just put up with more but I don't see any point in beating them up to prove something. Maybe it's a female gene, forcing me to do something would never make me give in and do it. It would make me resent you. I just think there's other ways of doing it and it's just whether you're smart enough to figure them out. So what, if they have some idiosyncrasies as long as they're not hurting anyone."
Contact Sean Clancy via e-mail at sean@thesaratogaspecial.com or telephone at 518-581-1947.
FREE! E-Newsletters from The Blood-Horse!...
Follow the top stories of major racing events, racing previews and results with FREE e-newsletters from bloodhorse.com. As news develops, we'll deliver updates to your inbox. Follow important events moment by moment, step by step!