Del Mar Race Report: His Kinda Race
Updated: Tuesday, August 21, 2001 4:23 PM
Posted: Tuesday, August 21, 2001 3:31 PM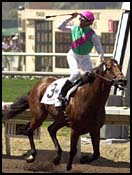 Photo:
Skimming gave Bobby Frankel his sixth Pacific Classic win.
Some things never change. They haven't yet conceded the $1-million Pacific Classic (gr. I) to Bobby Frankel, but there's talk. The man from Brooklyn has done it again--No. 6 for those of you keeping score at home, and the latest running of the Let's Catch Bobby Stakes was a virtual photocopy of last year. So far, there hasn't been a single soul to figure out the way to conquer Skimming at Del Mar, and by the time the smoke had cleared on Aug. 19, nobody was any closer to an answer. They've tried to take him on early. They've tried to chase him late. Some try to wear him down. Others go for the ambush. It doesn't really matter. The Juddmonte Farms homebred simply shakes them off like fleas. At Del Mar, Skimming is the boss. For the fifth time this year, Skimming and Futural went head-to-head, and despite the defending champ's affinity for Del Mar's tight turns and short stretch, most figured the 1 1/4-mile trip would better suit his rival. Captain Steve, still trying to reclaim his springtime glory, and Dixie Dot Com, fresh from a Texas tour-de-force, both stood as potential pace threats. Even Until Sundown, the blossoming 3-year-old, and Dig for It, an ironclad stayer, figured to make Skimming sweat. But after Skimming's latest domination, one pervasive notion rose above the rest--he may be unbeatable by the beach. While the pace was the deciding factor, the 11th Pacific Classic figured once again to be a chess match. Skimming turned it into a one-horse spectacular. Predictably, he shot straight to the front when the gates opened, though Garrett Gomez was surprised to see longshot Dig for It to his outside as they passed the stands. Behind them were Dixie Dot Com and Captain Steve. Chris McCarron had angled favored Futural to the rail, settling in behind Until Sundown. But he'd been pushing just to keep the Future Storm gelding involved. Futural would stay in last the entire trip, leaving McCarron and trainer Craig Dollase downright perplexed. Gomez, however, was a bit concerned as Skimming clocked the first split in :22.91. "I didn't like the first quarter of a mile," he said, referring to Dig for It's early pressure. "I thought I went a little too fast, but there was nothing I could do about it." When they reached the first turn, though, Gomez managed to lean toward the rail, giving Skimming some breathing room. The son of Nureyev instantly relaxed, and his :23.06 second quarter gave him a clear lead as he turned up the backstretch. Dig for It, Until Sundown, and Captain Steve continued a light chase, and as Skimming began to home in on the far turn, Pacific Classic XI was looking like a repeat of a year ago. "It was pretty close to identical up until the half-mile pole," Gomez admitted. "Last year at the half-mile pole, I think the weight kind of got a hold of him." When Skimming burst on the scene in last year's San Diego Handicap (gr. III), he had toted just 112 pounds. He picked up 12 pounds more for the Classic, and when upstart Tiznow started to move in last year, Gomez felt the extra weight prevented a quick countermove. But a year later, Skimming is not only wiser but he's filled out like Atlas, and as he pressed on through three-quarters in 1:10.03, Gomez felt nothing but strength beneath him. Surprisingly, it was Dig for It who made the first move, attacking Skimming as they swept into the far turn. A 6-year-old son of Digamist trained by Bruce Headley, Dig for It had set the Hollywood Park track mark for 1 3/16 miles in May, a race which convinced jockey Alex Solis he had more than a fighting chance going 10 furlongs. But when he pushed forward, Skimming had a response, and "just as he switched leads, he dropped and hit another gear," Gomez said. "And we opened up two on him like that." The move was conclusive, leaving Dig for It to deal with Captain Steve and Dixie Dot Com. Skimming was home-free. Gomez gave him one crack of the whip for insurance inside the eighth pole, but even that was superfluous. They were 5 1/2 lengths clear as they powered past the finish again, joining Tinners Way--another Juddmonte product--as the only two-time winners of Del Mar's summertime delight. Skimming's 1:59.96 clocking (including a :25.21 final quarter), compared to his 2:01.22 of a year ago, lends credence to Gomez' notion that an entirely different horse showed up at Del Mar this time around. "He was better today than he was last year in the Pacific Classic. He was more like he was in last year's San Diego," Gomez said, alluding to Skimming's breakout race. "This is the more impressive of the two." In Skimming's wake, a real tussle ensued for second. Dixie Dot Com, carrying the memory of late owner Bart Heller, prevailed for second, out-nodding Dig for It at the finish. A half-length away to their outside came Captain Steve. "He showed some real heart," said Dixie Dot Com's trainer, Bill Morey Jr. "I don't know if anybody on planet Earth could beat Bobby Frankel right now." Maybe, maybe not. But Frankel has always maintained that his cross-country crusades are merely the by-product of early-season discretion. "It's very simple," Frankel will tell you. "I do not train in the wintertime. I always save my horses for the summer and autumn. That's the way I train. I do it all the time." Some things never change. Skimming's blast through the stretch undoubtedly left Gomez grinning ear-to-ear. When put to the question, however, he replied, "I've been smiling all weekend." Point taken. The 29-year-old rider kicked off his slam-dunk weekend with a $44 surprise aboard Gary Tanaka's Golden Apples in the $300,000 Del Mar Oaks (gr. IT). Unlike Skimming, whom Gomez knows like a brother, he had very little to go on with Golden Apples, a daughter of Pivotal just days off the plane from Ireland. But the same strategy worked a year ago, when overseas invader No Matter What came in right on top of the nine-furlong Oaks and won like she was raised on sand and sunshine. Dropped into a field laden with quality, Golden Apples made the most of her local debut, as well. While Affluent took the Oaks through its early stages, Gomez found an isolated spot along the fence for Golden Apples. There they stayed till the stretch, when the rider aimed right and gunned Golden Apples to the middle of the course. The filly responded with a lightning-quick burst, and in seconds flat, she had steamed past Affluent and the rest. The winning margin was a length, with Reine de Romance the same distance back in third. Trained in Ireland by David Hanley, Golden Apples now resides in the barn of Ben Cecil.
Continued. . . .
FREE! E-Newsletters from The Blood-Horse!...
Follow the top stories of major racing events, racing previews and results with FREE e-newsletters from bloodhorse.com. As news develops, we'll deliver updates to your inbox. Follow important events moment by moment, step by step!