Peer Pressure
by Ray Paulick
Date Posted: 8/21/2001 10:42:01 AM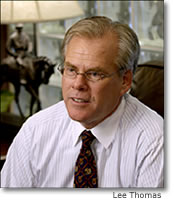 Ray Paulick
Editor in Chief


Last October, California Gov. Gray Davis stunned the racing industry with his veto of legislation that would have permitted account wagering and given backstretch workers better living conditions and an opportunity to join labor unions. On Aug. 13 of this year, Davis signed legislation that was virtually identical to the bill he vetoed. What was different this time around? First, as Davis acknowledged in a statement when he signed the bill, was federal legislation clarifying the Interstate Horse Racing Act and expanding the definition of interstate wagering to include Internet wagering. That cleared up questions raised by the Justice Department about possible violations of the Wire Act. Interestingly, in his statement, Davis said the California attorney general advised him the federal law made such bets legal "where it is specifically authorized or not forbidden," which means telephone and Internet wagering already may be legal in California and most other states where it is not prohibited by law. Secondly, the racing industry did a better job of educating Davis about why signing the bill was the right thing to do. They made it clear California was losing $250 million per year in handle to out-of-state or offshore operators, which seriously jeopardized the future of an industry that provides more than 50,000 jobs in the state. An important assist in this education process has to go to Kentucky Gov. Paul Patton, who wrote a letter to fellow Democrat Davis on July 30 explaining why he should sign the bill. In his letter, Patton said the legislation is "critical to the horse breeding economy of my state and yours" and cited the federal legislation clarifying interstate wagering. "Kentucky's unique place in the tradition of horseracing is well known," Patton wrote. "California's heritage of breeding and racing is an integral part of that culture. It is well worth strengthening for future generations. I strongly urge you to put your signature on the account wagering and backside legislation." Patton didn't stop at sending a letter to Davis. At the recent annual meeting of the National Governors Association, Patton bent the California governor's ear on the importance of the account wagering legislation. Patton has no connection to the horse industry, but he has grown to understand its significance during his two terms as governor. He also has gained political clout since taking office in 1995, serving as head of the Democratic Governors' Association, then as vice chairman of the National Governors Association, and is in line to head that organization in 2003. Davis succeeded Patton as chairman of the DGA.
COMMON GROUND Magna Entertainment, Churchill Downs, and the New York Racing Association may have their differences, but there is one subject where they should find common ground: tax reform. That issue was overshadowed by the interim report from the National Thoroughbred Racing Association's Task Force on Racing Integrity and Drug Testing at the 49th annual Jockey Club Round Table on Aug. 19, but tax reform at the state level is an achievable goal. It's questionable if the same can be said of uniformity in medication rules and drug-testing procedures. The NTRA said it is prepared to assist in grass roots lobbying efforts at the state level to change how the racing industry is taxed. Currently, the largest racing states, including California, Florida, Kentucky, and New York (where Magna, Churchill, and NYRA primarily operate), apply a tax on pari-mutuel handle. A comprehensive study by the NTRA Task Force on Economic Regulation concluded that racing should be taxed the same as other businesses--on revenue, rather than on handle. This change would allow tracks to be more flexible on takeout pricing and make it more competitive with other forms of gambling.



Copyright © 2016 The Blood-Horse, Inc. All Rights Reserved.