Drazin Appointed to NJ Racing Commission
by Blood-Horse Staff
Date Posted: 1/13/2010 1:30:50 PM
Last Updated: 1/14/2010 8:44:14 AM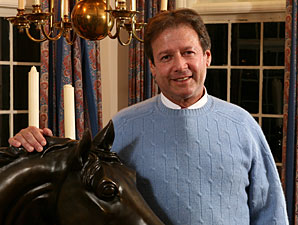 Dennis Drazin
Photo: Bill Denver/EQUI-PHOTO
Dennis Drazin, a longtime Thoroughbred owner and breeder who has served as president of the New Jersey Thoroughbred Horsemen's Association, has been confirmed as a member of the New Jersey Racing Commission and could become chairman.
Drazin, president of the Red Bank, N.J., law firm Drazin and Warshaw, is a member of Democratic Gov. Jon Corzine's Governor's Commission on the Horse Racing Industry, which is expected to issue a report in the summer of 2010. This is a key year for New Jersey racing because it's the final year of a purse subsidy given to racing from Atlantic City casinos.
In a regional feature that appears in the Jan. 16 issue of The Blood-Horse, Drazin, 58, called for construction of more off-track betting parlors in New Jersey. He also said racetrack gaming machines at The Meadowlands—a concept opposed by the casino industry and high-profile lawmakers—could generate $1 billion a year in revenue for the state.
What happens next is open to speculation. Corzine, who opposes video lottery terminals at tracks, was defeated in the November 2009 election by Republican Chris Christie, who takes over in January.
"The current governor-elect would have the majority of that money to use for whatever other needs for the state—whether education, property tax relief, or some area he thinks it should go," Drazin told The Blood-Horse. "So, slots ultimately may happen for New Jersey, because (the state) has budgetary problems and it's a good way of raising funds.
"In past discussions, the scheme has been to let Atlantic City (casinos) have a piece of it and run (the VLTs). A total of 25% would go to the horse racing industry, 25% to the operator, 25% to the state, and 25% to the casinos."
A report in the Asbury Park Press indicated Drazin is in line to become chairman of the NJRC. He told the newspaper: "I think the commission needs a strong leader, and if I am the leader, I'd like the commission to become more active in supporting the industry."
Copyright © 2015 The Blood-Horse, Inc. All Rights Reserved.