O'Neill, Wood Mull Future for Lava Man
by Tracy Gantz
Date Posted: 12/27/2009 8:30:09 PM
Last Updated: 12/29/2009 2:03:34 PM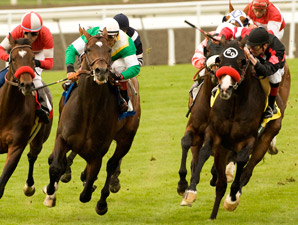 Lava Man faded late and finished last in the San Gabriel at Santa Anita.
Photo: BenoitPhoto.com
There was some disappointment in the Lava Man camp after the soon-to-be 9-year-old gelding faded to last in his comeback from retirement in the San Gabriel Handicap (gr. IIT) at Santa Anita Dec. 27.

The race ended a 17-month layoff for Lava Man, who returned to the track after stem cell therapy and surgery to remove bone chips from his chronically bad ankles.

But after setting the pace for jockey Tyler Baze in the 1 1/8-mile San Gabriel, he was overtaken in upper stretch and faded in the final furlong to finish seventh.

Trainer Doug O'Neill and co-owner Jason Wood expressed disappointment with the race. They said they would see how Lava Man comes out of the race and discuss it with the entire team, which includes co-owners Steve, Dave, and Tracy Kenly of STD Racing, before deciding on the next step.

"We'll have to regroup," said Wood. "I don't know if this (race) is a good sample. Did I expect more today? Yes. I expected us to run tough and be one, two, or three."

"He just got tired," said O'Neill. "I thought I had him more fit than that, but it's hard to simulate a mile and an eighth turf race in the mornings. When (Tyler) asked him to kick on, he said (Lava Man) gave him something, but he just couldn't sustain it."

Lava Man returned from the race with blood on both of his hind feet, apparently from a gash on his right hind tibia, according to O'Neill.

"I don't think that caused anything," said O'Neill. "It looked like he hit the side of the gate leaving there."

Lava Man broke on top and led for the first six furlongs while setting moderate fractions. He was passed by Proudinsky and Acclamation as he tired on the turn and was coming into the stretch. Proudinsky, who won the 2008 San Gabriel when trained by the late Bobby Frankel, won the race again, this time conditioned by Frankel's longtime assistant, Humberto Ascanio.

After Lava Man fought to mid-stretch, Baze realized that Lava Man would run out of the money and he wrapped up on the gelding.

"When he wins, turning for home he has that kick on the turn that creates some separation," said Wood. "When I was watching the race and I didn't see that separation, I knew we were in trouble."

In hindsight, Wood said that perhaps a 1 1/8-mile race off such a long layoff was "a little much."

"The reality is we probably should have done a seven-eighths," he said, "but he was training so well that you thought he could do it."
Baze, though, was enthusiastic about Lava Man's effort.
"He just got a little tired," the jockey told HRTV. "He feels like a different horse to me, like a new horse. I expect him to run big next time."

O'Neill said that Lava Man would walk for a few days before going back to the track if the owners elect to keep him in training.

Lava Man underwent stem cell therapy at the Alamo Pintado Equine Clinic in Los Olivos, Calif. Initially, the therapy was to make the gelding more comfortable in retirement. But his ankles improved so much that the decision was made to try a comeback, especially since Lava Man missed the excitement of the racetrack.

Lava Man appeared on the muscle in Santa Anita's walking ring. As he entered from the paddock, many of the fans lining up to see him cheered, startling him into jumping around a bit. But O'Neill had two handlers on him, and they immediately got him back under control.

An earner of $5,268,706, Lava Man is an 8-year-old California-bred son of Slew City Slew—Li'l Ms. Leonard, by Nostalgia's Star. The Kenlys and Wood claimed him for $50,000, and he has earned more money than any other claim in history. After Lava Man's ankles began bothering him in the middle of 2008, the owners retired him.

The gelding spent most of the intervening months at Magali Farms not far from Alamo Pintado. He returned to O'Neill's Hollywood Park-based stable in early September. Originally, O'Neill and the owners planned to run Lava Man in the Dec. 12 Native Diver Handicap (gr. III) at 1 1/8 miles on the main track at Hollywood Park. But they scratched him after a rainstorm as a precaution, deciding instead on the San Gabriel.

"I was very eager to see him run today because he's been training like the Lava Man of old," said O'Neill. "I thought we'd see a better performance. In his defense, he's been off an awful long time and they flew home. We'll just have to play it by ear."

Copyright © 2015 The Blood-Horse, Inc. All Rights Reserved.