NTRA Safety Alliance Accredits Fair Grounds
Date Posted: 12/17/2009 10:47:08 AM
Last Updated: 12/18/2009 9:52:44 AM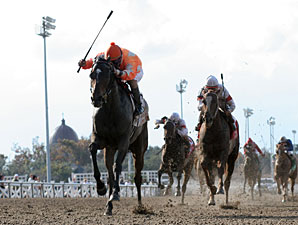 Photo: Lou Hodges Jr.
The National Thoroughbred Racing Association announced Dec. 17 that Fair Grounds Race Course & Slots in New Orleans has been fully accredited by the NTRA Safety and Integrity Alliance following a complete review of all racing operations at the facility. Fair Grounds is the 13th racing facility to be so designated by the Alliance.
The accreditation of Fair Grounds was the culmination of a lengthy certification process that began with the track's completion of a 48-page written application and continued as Fair Grounds hosted several meetings with Alliance officials. The on-site review included inspections of all facets of the racing facility, and interviews with track executives, racetrack personnel, jockeys, owners, trainers, stewards, regulators and fans. The inspection team was comprised of Celeste Kunz, DVM; racing official Richard Lewis; and Mike Ziegler, Executive Director of the NTRA Safety and Integrity Alliance.
"Fair Grounds was reviewed on December 3 and 4 during its current meeting," said Ziegler. "It exceeded prescribed benchmarks on many fronts and should be acknowledged for industry-wide best practices in the areas of post-mortem veterinary examinations, veterinarian's list protocols and planning and procedures in case of catastrophic injury."
"We are pleased that Fair Grounds received high ratings in so many aspects of our racing operations," said Eric Halstrom, vice president and general manager of Racing at Fair Grounds. "Everyone here at Fair Grounds is strongly committed to the safety of our human and equine competitors."
The Alliance, formed in October 2008 with the goal of establishing national uniform standards in the areas of safety and integrity, includes 55 racetracks in North America and every major national horsemen's organization. Alliance certification standards cover five broad areas: injury reporting and prevention; creating a safer racing environment; aftercare and transition of retired racehorses; uniform medication, testing and penalties; and safety research. Within those five categories, specific standards focus on areas including:
• Systematic reporting of equine injuries
• Aftercare of racehorses
• Pre- and post-race veterinary examinations
• Post-mortem examinations
• Health and safety of jockeys
• Riding crops and their use
• Horse shoes and hoof care
• Safety research
• Safety equipment for jockeys and horse handlers
• Exogenous Anabolic Steroids
• Alkalinizing agents (TCO2)
• On-track emergency medical care for humans and equines
• Out-of-competition testing
• Freezing and retrospective testing of post race samples
• Continuing education
• Security assessment and training
"It should be noted that Fair Grounds is the fourth Churchill Downs, Inc., track to be accredited this year," said Alex Waldrop, president and CEO of the NTRA. "CDI is to be commended for treating the accreditation process as the imperative initiative that it is."
Copyright © 2015 The Blood-Horse, Inc. All Rights Reserved.