Swift Temper Bought Back for $2,050,000
by Deirdre B. Biles
Date Posted: 11/10/2009 1:28:36 PM
Last Updated: 11/23/2009 1:54:00 PM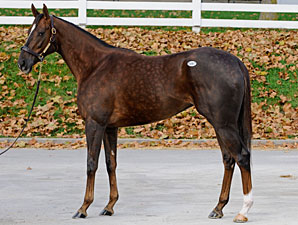 Swift Temper was bought back for $2,050,000 by her owner, Mark Stanley.
Photo: Joseph DiOrio
The final bid on Swift Temper was $2,050,000, but it came from her owner, Mark Stanley, so she didn't find a new home Nov. 10 during the opening session of the Keeneland November breeding stock sale in Lexington. Taylor Made Sales Agency consigned the 5-year-old daughter of Giant's Causeway to the auction for Stanley as a racing or broodmare prospect.
"I guess I got cold feet," Stanley said. "Taylor Made did a great job presenting her, and Keeneland did a great job getting everybody here, but I just couldn't let her go when it came time to do it. I might put her in the backyard and just pet her and feed her peppermints. She's been awful good to us, and she doesn't owe us anything. We'll probably breed her (in 2010); it's something we've got to take a little time to decide."
Produced from the Seeking the Gold mare Glasgow's Gold and a half-sister to German stakes winner Croisiere (by Capote), Swift Temper scored this year in the Ruffian (gr. I), Delaware (gr. I), and Sixty Sails (gr. III) Handicaps. She also captured the Gardenia Handicap (gr. III) in 2008.
"It just didn't turn out to be the day to sell her," Stanley said. "I can't say I'm completely disappointed. We were going back and forth all week about whether to sell her or not. The bank had a little influence (in the decision to offer Swift Temper at Keeneland), and I'm sure the bank would have liked to have seen her sold. It would have been good to reduce some debt, but our daughter went away to college, so we can't let both our girls go in the same year. She did, yes (get close to her reserve)."
Said Taylor Made's Frank Taylor: "She's a very nice mare from a great family. I wish we had gotten her sold, but she's just a beautiful mare, and I think she'll make a producer, so it's kind of bittersweet. She's been a great success for Mark; he's had great luck with her. He just liked her more than the market did. I can understand Mark not selling her; I think she's the best mare in the sale."
Asked to describe the early market at Keeneland, Taylor said: "We've sold a few of them good, but it's a buyers' market; it's not like the old days. Everybody's readjusting and trying to figure out what everything's worth again."
Copyright © 2015 The Blood-Horse, Inc. All Rights Reserved.