Saratoga Yearling Sale Gets Off To A Fast Start
by Deirdre B. Biles
Date Posted: 8/7/2001 11:57:16 PM
Last Updated: 8/10/2001 4:32:06 PM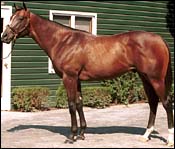 Unbridled's Song colt, brought top bid at first session of Saratoga yearling sale.
Photo: Barbara D. Livingston

The good times rolled at Saratoga Tuesday night, with prices during the opening session of the Fasig-Tipton select yearling sale exceeding last year's figures by significant amounts.The 58 horses sold grossed $17,725,000, which represented a whopping increase of 47.3%. The average price of $305,603 was up by 14.3%, and the median price of $205,000 was up by 13.9%. The buy-back rate decreased from 16.7% last year to 15.9% this year."Everything happened the way it was supposed to, and maybe that was a surprise in itself," said Fasig-Tipton's smiling president Walt Robertson. "I really felt like we had good horses tonight pretty much across the board at all levels of pedigree. I've got to compliment our selection crew. They put a nice bunch of horses in front of the buyers, and the buyers liked most of them."The session's top price was the $1.85 million brought by the third horse in the ring, a powerful-looking son of Unbridled's Song. King World chairman Roger King won a spirited and amusing bidding battle with Satish Sanan of Padua Stables for the muscular bay, whose dam is Interborough Breeders' Cup Handicap (gr. III) winner Win Crafty Lady.Sanan sat behind King in the same section of the sale pavilion. The colt's price climbed quickly past a million dollars, then the pace slowed and the two big spenders began fighting it out in $50,000 increments. King offered $1.75 million, but Sanan responded with a $1.8-million challenge. King got up from his seat, threw up his hands, and walked outside, indicating he was finished."I was going to get a cigarette," King said later.When asked if he was worried that the auctioneer, Walt Robertson, wouldn't wait for him, the television syndication mogul replied: "Nah, I knew they would slow down."King finally returned to his seat and raised the ante to $1.85 million. Then Sanan stood up and slipped down the aisle. Tapping King on the shoulder, Sanan made him an offer. "He wanted to go partners," King said. "I didn't want a partner. Why would I want a partner?"Sanan surrendered, and the hammer fell. An exuberant King jumped to his feet and pumped his fist, drawing cheers from the crowd.Sanan was a gracious loser."He wanted him more than I did," he said. "That's all right. He's good for the game. He's a nice guy. We were looking at the colt together this evening before the sale started."The colt is a half-brother to Graeme Hall, who captured the Arkansas Derby (gr. II), Jim Dandy Stakes (gr. II), and the Eclipse Stakes (gr. II). The colt also is a half-brother to stakes-placed Harmony Lodge, who sold for $1.65 million as a 2-year-old last year. Both Graeme Hall and Harmony Lodge are owned by pharmaceutical executive Eugene Melnyk."He's an outstanding-looking individual," said New Jersey bloodstock agent Buzz Chace, who signed the ticket for King. "He has a great presence, and his dam is a young (13-year-old), producing mare. He was one of the first horses I looked at when I got here. I called up Roger and said, 'You told me you wanted a special horse. This is a special horse.' "The $1.85-million colt was consigned by Gay and Michael Barnett's Blackburn Farm near Midway, Ky., as agent for Joe and Winnie Greeley's Sabine Stable."He has a very confident attitude," Michael Barnett said. "He's very willing and very relaxed. When you get through showing him, he goes back into his stall, lies down, and goes right to sleep. He's totally at peace."Chace was the session's leading buyer in terms of gross expenditures, paying $2,385,000 for three horses. Melnyk ranked second, spending $1,860,000 for three head, including the session's top-priced filly, a $750,000 daughter of Deputy Minister -- Woodja. Padua bought four for $1,820,000, and John Ferguson Bloodstock purchased four for $1,465,000 for Sheikh Mohammed and his family's Godolphin Racing operation. British bloodstock agent Joss Collins bought four yearlings for $1,075,000 in the name of Blandford Bloodstock. "The sale obviously started off with a roar," said Fasig-Tipton chairman D.G. Van Clief. "It was very solid."The auction continues through Thursday, with sessions beginning each evening at 7:30.Complete Results from bloodhorse.comCatalog, Results from Fasig-TiptonRelated Story, The Saratogian



Copyright © 2015 The Blood-Horse, Inc. All Rights Reserved.