Emotional Fires Joins Others in Hall of Fame Induction
by Evan Hammonds
Date Posted: 8/6/2001 3:53:05 PM
Last Updated: 5/20/2002 10:16:45 AM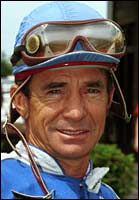 Earlie Fires, emotional during Hall of Fame induction ceremony.
Photo: Benoit & Associates

While temperatures soared under a hazy morning sun in Saratoga Springs, N.Y., emotions ran warmer and percolated over inside at the Humphrey S. Finney Sales Pavilion. The occasion Monday, Aug. 6, was the National Museum of Racing and Hall of Fame induction ceremonies.Equines honored were Maskette, horse of yesteryear; Paseana, contemporary female horse; and Holy Bull, contemporary male horse. Human stars enshrined were Tom Smith, trainer of the legendary Seabiscuit, a selection of the Historic Review Committee during the summer of 2000; trainer Richard Mandella; and jockey Earlie Fires.It was Fires' raw emotion in his acceptance speech that brought the full house of his peers and admirers to its feet. A self-admitted strong character and rider, Fires was brought to tears as he gave thanks to those who helped him make it on his long journey to the Hall of Fame.As a competitive rider for five decades, Fires is one of only a handful of riders to have won more than 6,000 races. The leading apprentice rider in 1965, Fires has waited for years to take his place in the hall. The finality of it reduced him to bundle of raw nerves as he uncharacteristically let it flow."In this business, you have a lot of people to thank," Fires began. "Between the trainers and the owners, and everybody that is in this business--everybody that is connected with the races, the grooms--everybody--It's a little emotional for me." After a pause, Fires continued, "because...I've been a long time trying to get here."As Fires' voice wavered and he reached to wipe a tear from his eye, he received a standing ovation from those on hand."There is a lot of people here, my family, my children, my mom, my brothers," Fires said. "And also, my two older brothers, Bucky and Jinks, really got the basis going (for his entrance). Now I think about all the things that have went on in my life...and I look at my little brother Jackie who is a paraplegic in this business. And I'm sorry for breaking down, but I love them all."If I do miss anybody, say like Willard Proctor, Brian Ott, "Sunshine" Calvert, Joe Bollero...when I look back and see these guys who I thought would probably be standing here with me. And also my father who I thought would get to see it...I was hoping we would all be here to see all this and hoped it be an honor and I'm so sorry that I'm breaking down. But I do love the business and I do love the horses more than anything."Usually I'm a pretty strong person, pretty outgoing. My fellow riders have probably never seen me like this because I'm pretty hard-headed."Fires also thanked the Hall and the voters who "finally got me here." His older brothers had been his strongest supporters and had been instrumental in getting a groundswell of support for his entrance in to the Hall.Fires was introduced by Terry Meyocks, president and COO of the New York Racing Association and the son of Fires' agent. A 28-year association together has made Fires a member of the Meyocks family according to Terry, and he praised Fires as one of the finest turf and gate riders in the history of Thoroughbred racing."You don't win 6,000 races without being competitive and aggressive," Meyocks said.Mandella, who followed Fires in gaining his plaque and acceptance speech, and is not one to miss an opportunity for a quip, brought back some levity to the presentation by saying, "We were all fine until Earlie got up here."
Mandella mentioned his family, especially his father, and trainer V.J. "Lefty" Nickerson as his strongest influences."When you're young and starting out, you have to have the support of your family," he said, recalling a few anecdotes about working horses in the early evening hours of his youth in Beaumont, Calif. A job nearby as an exercise rider at Connie Ring's Three Rings Ranch was "where my dreams started and it's so overwhelming here today."Mandella honed his craft under Nickerson and gave him plenty of credit. "He's the most fantastic man I've ever met. When I came to him, I was a jigsaw puzzle. With him, it all came together."Leverett Miller, a museum trustee and vice president of the Florida Breeders and Owners Association, presented Holy Bull's plaque to owner/trainer Warren "Jimmy" Croll. Miller, in describing the 1994 Horse of the Year, said "many strange creatures have come out of Florida, but few if any, have been as great as Holy Bull. His top side (sire Great Above) was pure Florida, and his dam side had two crosses of C.V. Whitney's import Mahmoud."Miller said that when the young Holy Bull "breezed it was 'Wow.' The 'wows' were to become standard equipment."Sidney and Jenny Craig accepted their plaque for Paseana from television commentator Chris Lincoln. Sidney Craig read his speech as if Paseana had written it herself and despite her many wins, the focus was on a few narrow defeats and what might have been even a greater career had she won those races.Jay Privman, president of the National Turf Writers Association, made the presentation for Maskette, a champion in 1907-08. Maskette becomes the fifth horse trained by James R. Keene to be inducted into the Hall of Fame.Tom Smith, whose place in the Hall of Fame was announced during last year's ceremonies, was known as "Silent" Tom. Besides Seabiscuit, whose legend continues to grow due to Laura Hillenbrand's best-selling book, Smith trained Jet Pilot to win the 1947 Kentucky Derby and also trained champions Kayak II, Mioland, Star Pilot, and Beaugay.A year ago, none of Smith's heirs were available, but with the popularity of the book, two of his granddaughters, Janet Smith O'Brien of Thousand Palms, Calif., and Phyllis Smith of Las Vegas, came forward to accept the plaque. Presenting the plaque was Col. Mike Howard, the great-grandson of Charles S. Howard, owner of Seabiscuit. The granddaughters and Howard met for the first time the evening before the presentation at a reception and were able to go through a lot of family history together in a short period of time."We had 50 years of history to catch up on," Smith said of their meeting. The book and induction have also allowed the granddaughters to get closer. Since they are 27 years apart in age, "We've been out of touch for many years," Phyllis Smith said. "But now we're starting to develop a sisterly relationship."Fame has a habit of either tearing people apart or bringing them closer together.For the Thoroughbred industry, the morning of Aug. 6 formed a family reunion full of smiles, tears, and plenty of good memories. What's Related:Hall of Fame Biography of trainer Tom SmithStories Published in the Aug. 4 edition of The Blood-Horse magazine:Holy Bull's Success Was 'Remarkable Story'Mandella Ruled California in 1990sFires is Epitomy of Courtesy and ProfessionalismPaseana 'Strong as Steel, But Coy'Maskette Part of Keene's 'Golden Age of Champions'Racing's Hall of Fame Evolved from Humble Beginnings



Copyright © 2015 The Blood-Horse, Inc. All Rights Reserved.