At Keeneland, a Shrouded Silver Lining?
by Tom LaMarra
Date Posted: 9/25/2009 7:16:34 PM
Last Updated: 9/27/2009 11:03:36 AM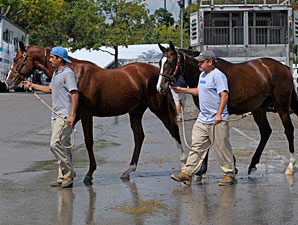 Photo: Anne M. Eberhardt
The Keeneland September yearling sale continued Sept. 25 with decreases in all major indices, though some participants see a shrouded silver lining: bargains for those with some cash and an increase in the value of yearlings in a couple of years.

An anticipated further reduction in stud fees and a shrinking foal crop could be viewed as positives given the current industry climate. But what may happen in 2011 or 2012 does little more than offer some hope to struggling breeders and consignors.

"People have to sell," said trainer McLean "Mac" Robertson, who was on the lookout for potential purchases at Keeneland. "If you're looking to buy, you can buy a nice horse, because (consignors) aren't sure if they'll bring $15,000 or $55,000.

"Instead of being in there buying drinks," he said, motioning toward the sale pavilion bar, "they're throwing their catalogs on the floor."
When selling on the 11th day of the 14-day sale was done, the cumulative totals weren't pretty: Gross was $187,076,600, down 41.41% from $319,287,900 for the same number of days in 2008; average was $73,536, down 36.25% from $115,350; and median came in at $33,000, down 45% from $60,000.
For the day, 245 horses sold for $2,504,800, down a staggering 59.62% from a year ago, when 276 horses sold for $6,203,400. The average price of $10,224 was down 54.51% from $22,476, while the median dropped 53.33% from $15,000 to $7,000.
For complete results from this sale, including Hip-by-Hips and cumulative sale results,
click here.
There are still three days left of selling; the sale ends Sept. 28.
Camelia Casby, an owner/breeder who races in Kentucky and Minnesota, was on hand to sell a yearling. She acknowledged the sorry state of market but indicated it's time to plan to perhaps benefit from the correction.

"I think what we breed this coming year, people need to be careful," Casby said, noting the foal crop of 2011 could prove profitable given the market dynamics. "Still, stud fees will have to come down a little. I don't see anyone making money out here.

"They're not looking for (residual value) this year. You've got to have a horse (for it to sell). It's really survival time for the industry, and that goes for owners, too, because you don't know what's going to happen with all these racetracks."

Casby mentioned tracks owned by bankrupt Magna Entertainment Corp. as well as Ellis Park and Turfway Park in Kentucky. Officials at both tracks have said it's possible they could close if alternative gaming isn't approved to boost purses at Kentucky tracks.

Patrick Huffman, who trains Casby's Kentucky-based horses, said he's considering a move to Gulfstream Park in Florida for the winter. Other Kentucky-based trainers have said the same thing.

Kentucky racing's growing competitive disadvantage with other states isn't to blame for the auction downturn, but it's an issue, and the lack of return on investment in Kentucky is becoming more apparent. A large percentage of the horses that sell at Kentucky auctions are Kentucky-breds, but it's difficult to justify running them through their conditions at tracks in the state for at least half the year.

Maiden special weight events at Ellis Park and Turfway go for $22,000-$25,000, roughly half the purse in some other racing states. Maiden allowance events at Churchill Downs and Keeneland are much more lucrative at $46,000-$50,000, but only comparable with some meets in California, New York, and even Pennsylvania.

"What you see at the sale reflects the purses," said trainer Eduardo Caramori, who is based in Lexington but often runs horses out of state. "We've been racing a lot at Presque Isle Downs (in Pennsylvania) instead of Turfway. Keeneland is not a problem money-wise, but the competition is brutal.

"And if you have a horse that's not a Kentucky-bred, forget about it. If you have imported horses, this definitely is not your state."

At Ellis Park and Turfway, horses not bred in Kentucky may run for only half the advertised purse in maiden special weight, allowance races, and some stakes.
The sale-topper for the Sept. 25 session was a Stormy Atlantic —Emptythetill colt purchased for $80,000 by Just For Fun Stables. Taylor Made Sales Agency, agent, was the consignor.
The second-highest price of $50,000 was paid by Hayden Thoroughbreds for a colt by Yes It's True out of the Spinning World mare Spinning Miss. The consignor was Eaton Sales, agent.
Copyright © 2015 The Blood-Horse, Inc. All Rights Reserved.