September Outlook: Proceeding With Caution
by Deirdre B. Biles
Date Posted: 9/13/2009 8:15:44 PM
Last Updated: 9/14/2009 11:18:58 AM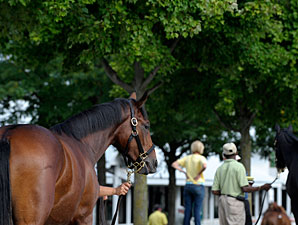 Photo: Anne M. Eberhardt
The weekend before the Sept. 14 start of the Keeneland September yearling sale in Lexington, the auction's participants were worrying about the market and trying to guess how much it would be down from 2008. But some consignors were pleasantly surprised by how many people were looking at their horses. Following is what some of them had to say:
Lincoln Collins, bloodstock agent and Three Chimneys Farm director: "It seems to me the sale is likely to be down. Let's hope that the good horses will sell really well. One worries about how many buyers there are going to be off the top level and as the sale progresses. But painful though this is, it's a correction that is a reflection of the economy in general, and it's a reflection -- I'm afraid partly too -- of the fact that a lot of owners have become disenchanted with racing. But the good thing is that it's a good time to buy a horse. It will mean that the expenses will be overall lower because the horses will be less expensive. Let's hope that this game comes out leaner and stronger once this painful shakeout has taken place."
Dell Hancock, Claiborne Farm: "I think it's a little scary. The world economy is off 30%, and except for Saratoga (Fasig-Tipton's select sale), the market has been off a good deal. I've always heard the horse market lags behind the rest of the world, so I don't think it's going to be a sensational sale here at Keeneland. You just have to evaluate your horses coming into the sale and figure that if they don't bring what you want and you like them well enough, you'll put them in your racing stable and keep your fingers crossed. I don't think you can be overly optimistic."
Marc McLean, Crestwood Farm: "In general, we're expecting the sale to be tough, but hopefully there will be a bottom. I think the biggest fear is how low will people go? It looks like there is plenty of action out here, so we're hoping buyers will be there for the good horses. Our feeling is the quality horses will sell well, but I'm sure we'll be taking plenty home."
Andy Havens, Havens Bloodstock Agency: "It's a big sale in a down market. I'm pathologically optimistic, but I think you've got to be realistic about what's going to happen. Buyers are not wanting to pay as much for these horses as they used to and you have to take that into consideration and make your conservative decision (about reserves). The hard part is not knowing what horses are worth. It's just a real hard time to figure out where horses fit in the market and how much money you've got on them (from prospective bidders). Over the last year it's sort of been what can you live with?"
Will Farish, Lane's End Farm: "We had more people looking yesterday (Sept. 12) than we've had in years. It really was a barn burner of a day throughout the whole grounds, and that's very encouraging."
Sandy Stuart, Bluegrass Thoroughbred Services: "I'm probably more optimistic than the average person on the grounds. There is a much brighter outlook in the domestic economy; the Dow Jones is up to 9,600 or something. That's a pretty good rebound. There has been really good traffic (in the barns). I feel like it's better traffic than last year and maybe on par with two years ago."
Tom Ludt, Vinery: "We were busier than I expected yesterday. People are here; I would think books one and two (of the sale catalog) should be OK if people are realistic. I think if we are down 15% to 20% that will be a success. What's the world is down? 30%? Why should the horse industry be any different? It's going to be really tough late in the sale when you get to books six and seven. I think our supply is too much for the demand."
Frank Taylor, Taylor Made Sales Agency: "I'm expecting the worst and hoping for the best. I think it will be better than most people think. The expectations are very low, and people realize we're up against it. I think there's going to be an opportunity for people to buy horses, which is a good thing. Success is going to be getting them sold and hopefully, the good horses will sell well, which I think they will. But the average horses, if you can just get them sold, that's what I think your goal needs to be. We've had pretty good action and great weather; we'll just have to see what happens."
Dr. Steve Carr, Centennial Farms: "We pretty much skipped the select sessions the last two years and looked at just a handful of horses in book one (of the sale catalog). But this year, we're looking at most of them thinking that the prices will be off just enough to make some of the types of horses we were wasting our time on in the past more affordable this time."
Copyright © 2015 The Blood-Horse, Inc. All Rights Reserved.