Shapiro Issues Apology Over Keying Incident
Date Posted: 9/1/2009 8:46:56 PM
Last Updated: 9/2/2009 8:54:05 AM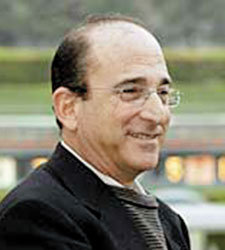 Richard Shapiro
Photo: Benoit
Former California Horse Racing Board chairman Richard Shapiro, who pled "no contest" Aug. 18 to a misdemeanor charge of vandalism for "keying" the car of racehorse owner Jerry Jamgotchian, issued a written apology Aug. 31.
Shapiro, 56, was sentenced to three years of informal probation and ordered to pay restitution of $6,800 to Jamgotchian to cover the damage to the owner's 2008 Jaguar, which occurred in the Hollywood Park parking lot during a CHRB meeting April 24. Jamgotchian, a frequent critic of Shapiro's CHRB actions, is preparing a Civil Court case against Shapiro.
Richard Shapiro Apology Letter (PDF)
Copyright © 2015 The Blood-Horse, Inc. All Rights Reserved.