Hall of Fame: Paseana 'Strong as Steel, But Coy'
by Evan Hammonds
Date Posted: 8/6/2001 7:56:49 AM
Last Updated: 5/28/2002 3:41:30 PM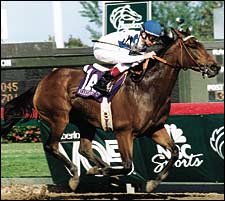 Paseana's four-length win in the 1992 Breeders' Cup Distaff was the largest winning margin of the day at Gulfstream Park.
Photo: Barbara D. Livingston

The echoes from her retirement speech had barely faded to a whisper before the young upstart took her place. Bayakoa, the Argentine-bred Amazon, was making her final racetrack appearance in mid-April 1991 while another hemisphere away, Paseana was putting the final touches on her Argentine racing career, preparing to head north to a larger arena. No other filly may have been able to fill Bayakoa's shoes so quickly...and so brilliantly. Both fillies were purchased by Hall of Fame trainer Ron McAnally and brought to Southern California; both proved to be among the most competitive race mares of their time; both are now in the Hall of Fame; and both may forever be mentioned in the same breath. However, they were as different as you
and I. Bayakoa, the bay bruiser with the parrot mouth, was pure speed, galloping her rivals into the ground. Paseana was also as strong as steel, but coy. She was more tractable, able to rattle the teeth of her rivals on the lead if she had to, but was at her best while stalking, tracking her competition the way a barn cat tracks its lunch. When dusk settled on her racing career at age eight, Paseana had proven her worth as her total earnings fell just shy of the all-time mark for a North American-based female held by Dance Smartly. McAnally had his eye on Paseana for some time. "I tried to buy her earlier when she was scheduled to run in a turf race as the heavy favorite," McAnally told The Blood-Horse in 1992. "She was out of the money, so I called back and they said she had pulled a muscle in her hip. We forgot about her for three or four months. I went down there to receive an award, and she had just won a grade II race impressively. We decided to buy her." The purchase price was $320,000 and the buyer was Sidney Craig, who with his wife, Jenny, heads Jenny Craig International, a chain of weight loss centers. The Craigs had been dabbling with claimers with train-er Hal King, but thought it was time to step it up. King became the Craigs' racing manager with McAnally taking charge of the training. "The first horse I bought outside the claiming ranks was Paseana," Craig said last month. His first big purchase put him on the ride of a lifetime. She made her last start in Argentina on April 13, 1991. McAnally gave her six months to acclimate to the Northern Hemisphere. "They're not like European horses who are on the same parallel as we are. You can't run them right away." Paseana made her North American debut in the $61,000 Manta Handicap at Santa Anita. It would be the only one of her 28 starts in the U.S. in which she didn't face graded or million-dollar company. Even though she finished second that afternoon, her brilliance glowed. "Right after the race," Craig said, "Hal King said she'll be one of the greatest horses to ever run in America. After that, she won seven in a row." The joy ride began. For the next nine months, no filly got even close to Paseana at the finish as five grade I wins went into her hip pocket. It wasn't until she faced males in the $1-million Pacific Classic in August of 1992 that she showed any weakness. "It's funny how you remember the bad races," Craig said. "In the Pacific Classic, a jockey fell off the horse (Edgar Prado on Jolie's Halo) right in front of her and then she got caught in between two big studs." After pressing the pace, favored Paseana finished fifth, more than six lengths behind 24-1 winner Missionary Ridge. It would be one of only three U.S. starts where she finished off the board. The Craigs quickly became the toast of the racing world. As a gift, Jenny purchased an Irish-bred colt named Dr Devious for her husband for a reported $2.5 million to run in the 1992 Kentucky Derby (gr. I). After a seventh-place finish in Louisville for the British-based horse, it was decided to go back to England and a stab at the Epsom Derby (Eng-I). As the 8-1 co-second choice, Dr Devious won at Epsom by two lengths. That same year, the Craigs' Exchange was in the early stages of her long and illustrious career. "It was an incredible time," Craig said. "I thought it was an easy game at that point. After the Epsom Derby, that big English fellow (John McCririck) came up to me and gave me a big bear hug. He said, 'You are on the most phenomenal run I've ever seen. Enjoy it. You'll never do it again.' " The year was capped off with Paseana's Breeders' Cup Distaff (gr. I) at Gulfstream Park. "The Breeders' Cup was her most memorable win," Craig said. "She won by four lengths, the largest margin of the day. The anticipation before the race was incredible. As an owner, before the race, you run it 100 times in your head...and you always win. When it actually happens, it's very exciting." The first of two Eclipse Awards as top older female soon followed. Paseana continued to be as consistent as sunrise. Despite more second-place finishes than wins in 1993, she earned another championship. In one race, Chris McCarron, her only rider in North America, dropped the reins in the Santa Margarita Handicap (gr. I) and lost to Southern Truce by a head while spotting her 10 pounds. A game loss by a nose to 3-year-old upstart Hollywood Wildcat in the Breeders' Cup Distaff at Santa Anita took nothing away from her stature. "Imagine the difference in those races," Craig pondered. "That's more than a million dollars. When she retired, she was the second top-winning filly of all time, second by just $100,000." Despite her advancing age, she continued to win or place in seven of eight starts in 1994-95 at ages seven and eight. Then, following a fifth-place finish in the Vanity Handicap (gr. I) in July of 1995, Paseana was retired due to a pulled suspensory ligament. Her career earnings of $3,163,703 were just $100,132 shy of Dance Smartly's record. "When you look back, she was slowly grinding it out," McAnally said in 1995. "Things she used to do willingly she now was doing reluctantly." "When she finally retired, it was very depressing," Craig said. "Somebody wrote, 'That wasn't the Paseana I know,' and they were right. She was the greatest." Earlier in 1995, the Craigs had purchased 225 acres in Rancho Santa Fe, Calif., and named the property Rancho Paseana. The Craigs currently live in a home, previously owned by former NFL commissioner Pete Rozelle, that overlooks the farm. The training and lay-up facility has about 150 horses on it. The Craigs' hopes were to have Paseana become the cornerstone of their breeding operation. Instead, the gallant mare has produced but one foal, a 2000 Argentine-bred filly by Lode. "We couldn't get her in foal for three years," Craig said. "A doctor in Argentina called and said he could get her in foal and she shipped down there and did get in foal." Paseana was returned to North America earlier this year with the hopes of again getting her in foal. She is scheduled to be bred on Southern Hemisphere time in 2001 at Lane's End Farm near Versailles, Ky. A potential mate is Lane's End stallion Gulch. The Craigs continue to chase the dream. "You go out and buy a yearling colt and you think you're going to win the Kentucky Derby," Craig said. "Everybody is a dreamer in this business, but you can't really believe that they'll do what you want them to." They also continue to buy horses from Argentina. "We've bought five or six horses from Argentina," Craig said. "But the first one was Paseana."



Copyright © 2015 The Blood-Horse, Inc. All Rights Reserved.