Hall of Fame: Maskette Part of Keene's 'Golden Age of Champions'
by David Schmitz
Date Posted: 8/6/2001 7:58:02 AM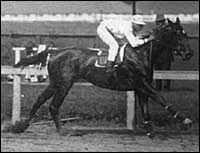 Maskette winning the Gazelle Handicap at Gravesend.
Photo: Courtesy National Museum of Racing and Hall of Fame

Maskette belonged to the golden age of champions for James R. Keene. From 1893 to 1910, Keene campaigned champions Maskette, Domino, Commando, Sysonby, Colin, Peter Pan, Sweep, Ballot, Court Dress, Delhi, Voter, and Chacarnac. Homebred Maskette was one of several to earn a championship at ages two and three, and follows Domino, Commando, Sysonby, Colin, and Peter Pan into the National Museum of Racing and Hall of Fame. Like many of Keene's greatest runners, Maskette bore the blood of the great stallion Domino. Her sire, Disguise, was one of only 19 named foals sired by Domino. Sent to England to race, Disguise distinguished himself with a win in the Jockey Club Stakes over English Triple Crown winner Diamond Jubilee and a third-place finish behind that rival in the Epsom Derby. Maskette raced exclusively in New York when racing in the Empire State meant more than just Aqueduct, Belmont, and Saratoga. Maskette won at those three tracks and also at Gravesend, Jamaica, and Sheepshead Bay, winning a dozen of 17 starts and earning $77,090. She was so highly regarded she went off odds-on in all but two of her starts, and two of her riders, Joe Notter and Jimmy Butwell, ended up making it to the Hall of Fame. Maskette, who was produced from the Hamburg mare Biturica, didn't start until August of her 2-year-old season in 1908 and promptly won her first two starts at Saratoga. She came from behind to win her debut, and two days later unleashed her trademark speed by setting a track record in the Spinaway Stakes. Trainer James Rowe had Maskette ready to run in the rich Futurity Stakes Aug. 29 at Sheepshead Bay, and she responded with a three-length triumph over the year's best colt, Sir Martin, with her stablemate, Helmet, finishing third. The weights had been in Maskette's favor--118 pounds to 127 pounds for Sir Martin--but that didn't distract from her overall effort. "It was one of the best fields in the history of the race, and the easy style in which Maskette won would make it appear that she is the best of her age," wrote The Thoroughbred Record. Four days after the Futurity, Maskette added to her reputation by winning the Great Filly Stakes under 127 pounds. Three days later, she tried Sir Martin in the Flatbush Stakes, and this time gave him two pounds. She led with a quarter-mile to go, then weakened and finished four lengths behind him. In the Matron Stakes a month later, it was just Maskette and stablemate Affliction in the race, and those two cantered home in that order. Maskette concluded her 2-year-old season with five wins from six starts, and her earnings, $53,140, were the most for a 2-year-old filly that year. Maskette didn't miss a beat going from age two to three. She started off by winning the Ladies Stakes in May, then took the Gazelle, Mermaid, and Alabama Stakes. In October, she defeated males in the Pierrepont Handicap, and was a nose short of beating older male Firestone in the Aqueduct Handicap in her final start of the year. Maskette's 4-year-old season in 1910 started as prominently as her two previous seasons. She began with a track record in a handicap race at Aqueduct in May. After that, she won just once in four starts and was retired following an unplaced effort in the Delaware Handicap at Saratoga. During her career, she had won up to 11*8 miles, but never was tested beyond that distance. Retired to Keene's Castleton, Maskette was bred to Domino's grandson Ultimus (by Commando) and produced a filly in 1912. That same year, Col. Phil T. Chinn bought Maskette (in foal to Sweep) as part of a package deal for Sheepshead Bay president W.K. Vanderbilt and arranged to send her to France. Maskette produced four stakes winners during her career and died in 1930. Unfortunately, her name appears lost in prominent female family pedigrees. New York racing honored Maskette in a big way when Belmont Park hosted the Maskette Handicap for fillies and mares in 1954. The Maskette, a grade I race later on, was won by such future Hall of Famers as Searching, Tosmah, Bold 'n Determined, Lady's Secret, Personal Ensign, and Go for Wand. Bold 'n Determined's victory in the 1980 running was especially noteworthy. She beat Kentucky Derby (gr. I) winner and future Hall of Famer Genuine Risk while giving her four pounds. The Maskette now is only a memory. The New York Racing Association changed the name of the race for the 1992 running to honor the ill-fated Go for Wand.



Copyright © 2014 The Blood-Horse, Inc. All Rights Reserved.