Hall of Fame: Mandella Ruled California in 1990s
by Lenny Shulman
Date Posted: 8/6/2001 7:55:52 AM
Last Updated: 5/28/2002 3:41:52 PM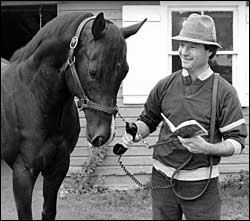 Richard Mandella and Phone Trick called all the shots in 1985 and '86.


As the dominance of Charlie Whittingham faded, and before the onslaught of Bob Baffert, trainer Richard Mandella ruled the roost of California racing in the 1990s. Each year seemed to bring another episode of "Can You Top This?" And Mandella could, succeeding well enough to earn induction into the National Museum of Racing and Hall of Fame this year. The son of a blacksmith, Mandella began working for his father at their farm in Beaumont, where the Pomona and San Bernardino Freeways meet an hour east of Los Angeles. His dream was to become a jockey, but by his early teens he had outgrown that fantasy and skipped to Plan B--training. Mandella, now 50, put in better than five years breaking and training at Connie Ring's Three Rings Ranch. He continued riding and breaking at Farrell Jones' Riverside Thoroughbred Farm, starting the green yearlings and galloping the tough old horses, and at one point had three businesses going, including training with his father until nightfall. "I learned some good lessons early on," Mandella noted. "My father and I were taking care of broken down and hurt horses who nobody else wanted. Trying to fix them, you realize maybe somebody should have stopped on them before they went so bad. Looking back, I think that's a key to a lot of my success." When Mandella made it to the racetrack, Santa Anita, it was a short-lived initial engagement. "I brought in a couple of my own horses and found out they weren't any good and got rid of them," he laughed. Mandella often employs self-deprecating humor to lighten the moment. While at Santa Anita, Mandella hit if off with trainer Lefty Nickerson, who asked him to go to New York as his assistant. "He is an extremely intelligent man, and I learned a lot about training from him," Mandella said. "He also had a way of pointing me, of getting me through some of the confusion in life. He helped me figure out how life works." "Actually, I taught him about girls," is how Nickerson put it. "He's first-class all-around, one of the finest men I've ever met. And very gifted with horses right from the start. I root for him all the time." Mandella opened his own public stable back in California in 1976, winning with the first horse he ran, a mare named La Mesa under Bill Shoemaker. Along came his first major stakes winner, Bad 'n Big, who took down the Cinema Handicap (gr. IIT) in 1977. Today, after 118 stakes winners, Mandella still ranks that Cinema victory as one of his biggest thrills in racing. He claims not to do anything different from the next guy, but Mandella possesses certain virtues that have allowed him to rise above. "You have to have the right tool (horse) or you can't do anything," he said. "But you have to make the most out of the little tools till you get the big tools. You can't be stumbling along doing a bad job with cheaper horses or you'll never get the good ones. I don't know; I guess my persistence and patience through the years has paid off. It actually boils down to being a little slow in the mind and being too stubborn to give up." Mike Machowsky worked four years for Mandella before going out on his own in 1990. "He's a great teacher," Machowsky said, "and an honorable man. He does the right thing for the horse, and he's hands-on to this day. Not long ago I was down in the dumps with a bunch of maiden 32s, and not great maiden 32s, either. Dick asked me what was wrong and I told him I'd like to get some good young horses. And he said the only trouble with that is you can get $1 million yearlings who you want to run for 32, and you can't." "He is genuine, honest, and has incredible patience," said Chris Baker, who worked as a Mandella assistant from 1993-97 and now mananges Edward Evans' Spring Hill Farm in Virginia. "He always errs on the side of caution, and that's why he has 6- and 7-year-old graded stakes winners." Mandella's first star was the brilliant sprinter Phone Trick, who won the first nine races of his 10-race career before injuries forced him to the breeding shed, where he has also excelled. There is a well-used gag photo of Mandella holding a phone receiver up to his star's ear, and there is no doubt the young trainer was calling all the right shots. Phone Trick equaled two Hollywood Park track records, and visited winner's circles on both coasts in 1986, when he won grade II races such as the San Carlos, Bold Ruler, and True North. Losing only his final start, when second in the Tom Fool Stakes (gr. II) at Belmont, Phone Trick earned nearly $400,000 and a dear place in his trainer's heart. It was the decade of the '90s, however, when Mandella asserted himself as a major force in California and beyond. The foreshadowing took place in the 1990 running of the Beverly Hills Handicap (gr. IT) at Hollywood. Mandella became the first conditioner in Southern California history to win a grade I race with a pair of dead-heated stablemates when Beautiful Melody and Reluctant Guest hit the wire together. Then came 1993, and the outstanding French-bred turf horse Kotashaan. After entering Mandella's barn, the import blossomed, reeling off grade I turf victories in the San Luis Rey Stakes, Oak Tree Invitational, Eddie Read Handicap, San Juan Capistrano Invitational Handicap, and Breeders' Cup Turf. He finished second in the Japan Cup (Jpn-I) only because jockey Kent Desormeaux misjudged the finish line. Nevertheless, Kotashaan was named champion grass male and Horse of the Year for 1993. Kotashaan was just one of Mandella's winners on the 1993 Breeders' Cup card at Santa Anita. A strapping daughter of Phone Trick, Phone Chatter, followed up her win in the Oak Leaf Stakes (gr. I) that fall with a triumph in the Breeders' Cup Juvenile Fillies (gr. I), and was voted champion of that division. In addition, Mandella won two of the undercard stakes that day--the Skywalker Handicap with Region, and the Smile Handicap with Memo. His four stakes winners on the afternoon earned $1,697,500 in purse money. Fueled by an influx of South American talent, Mandella continued his tear through the mid-'90s, dominating the biggest stakes races in California. The speedy stayer Siphon kicked off an unreal streak of six consecutive $1-million wins on the Southern California circuit for Mandella when he captured the 1996 Hollywood Gold Cup (gr. I). A little more than a month later, Dare and Go came from off Siphon's pace to defeat Cigar and end that one's 16-race win streak when he captured the Pacific Classic (gr. I) at Del Mar. Siphon came back to score in the Big 'Cap (gr. I) at Santa Anita the following spring, beating Sandpit and Gentlemen to make Mandella the only trainer to saddle the 1-2-3 finishers in the Santa Anita Handicap. The cycle went around again as Gentlemen won the 1997 Hollywood Gold Cup and Pacific Classic, and Malek took down the 1998 Big 'Cap. It took Skip Away, who defeated Puerto Madero and Gentlemen in the 1998 Gold Cup, to end Mandella's domination. "It's a very emotional moment," the trainer said upon learning of his impending induction into the Hall of Fame. "It seems unbelievable, though I guess after having been nominated the past two years, you think it might be for real. But then when you don't make it, you also think, 'Gee, maybe I'm just filling the race for these other guys.' " This time, again, Mandella gets the last laugh on the field.



Copyright © 2015 The Blood-Horse, Inc. All Rights Reserved.