Hall of Fame: Holy Bull's Success Was 'Remarkable Story'
by Steve Haskin
Date Posted: 8/6/2001 7:53:58 AM
Last Updated: 5/28/2002 3:41:14 PM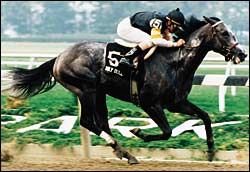 Holy Bull's victory in the Woodward Stakes helped nail down Horse of the Year honors.
Photo: Shigeki Kikkawi

He became known simply as "The Bull." And in 1994, Thoroughbred racing was the proverbial china shop. When he departed so abruptly one February afternoon in Florida, it took a superstar like Cigar to come along and pick up all the shattered pieces left by this gray Goliath. But Holy Bull and the remarkable story behind his rise to stardom still touch people after seven years, and voters couldn't wait to induct him into the Hall of Fame in his first year of eligibility. In closets across the country, there still hang thousands of gray T-shirts designed by Daily Racing Form caricaturist Peb, depicting a raging, snorting bull with a paradoxical halo above his head. His name conjured up heavenly images, but on the racetrack he was hell on wheels; the god who ran like the devil. The story of Holy Bull begins some 20 years before he was even born. Trainer Warren A. "Jimmy" Croll, a veteran on the New Jersey circuit, had made only one journey on the Kentucky Derby trail, with A.I. "Butch" Savin's Royal and Regal in 1973. Two years earlier, Savin had sent Croll to the Keeneland July yearling sale to look for a horse who had the potential to become a top-class stallion. Croll paid $220,000 for a son of Raise a Native out of Gold Digger, whom Savin named Mr. Prospector. Around that time, while stabled in Florida for the winter, Croll was approached by Everett House, the live-in companion of Croll's longtime client Rachel Carpenter. He informed Croll that Carpenter had re-written her will. "He said, 'Jimmy, I want you to know that if anything happens to the two of us, all the horses belong to you,' " Croll recalled. "She was the type of person I thought would live forever, so I never gave it a second thought." House died in the early '90s, which deeply affected Carpenter. Each year, she would make it a point to go to Monmouth Park to visit with friends and family and see her horses. In 1993, she went to Croll's barn on the last day of her visit. One of the horses he showed her was a homebred colt by Great Above out of the Al Hattab mare Sharon Brown named Holy Bull. "You know, this gray colt could be something special," Croll told her. The year before, Croll's son and assistant, Bill, had gone down to Bonnie Heath Farm in Ocala, Fla., to look at the yearlings. "I couldn't get down there that year, so Bill went instead," Croll said. "He watched the yearlings parade and gallop through the stretch. One of the yearlings was a colt that I owned, so they pushed him in a big way. They videotaped all the gallops, and when they told Bill our horse was a pretty nice colt, you could hear him say on the video, 'You're out of your mind. What about the gray horse? He's the best one. He's a standout.' " Carpenter had been ill when she visited Croll's barn that summer in 1993, and two weeks later, on Aug. 14, she died in her sleep. Croll received the news later that morning from House's daughter, Even Tehan, who was Carpenter's secretary. Ironically, Croll had entered Holy Bull for his career debut that afternoon. He assured Tehan he would scratch the horse. "Oh no, don't scratch him," she said. "She wouldn't want you to do that." So, Croll ran Holy Bull, who won easily. Three days later, he received a call from Carpenter's lawyer. "He said, 'Jimmy, I just want to tell you that when that horse won the other day, he belonged to you,' " Croll said. "At first I didn't know what he was talking about, but then I remembered what Ev had told me 20 years earlier. It had been so long, she could have changed her will again 10 times for all I knew. But when the lawyer told me that, it rang a bell, so I wasn't totally surprised." Croll, of course, had no way of knowing the gift he had just unwrapped was actually Aladdin's lamp in the form of a big, battleship gray colt. By the end of the following year, the genie had granted two of the three wishes: Holy Bull was Horse of the Year and Croll was the latest inductee into the Hall of Fame. And now, seven years later, the third wish has been granted, as Holy Bull joins his trainer in racing's pantheon of the greats. Following his debut victory, Holy Bull won 12 of his next 14 starts, with six of them coming in grade I stakes, and three in grade II stakes. His only two losses came in the Fountain of Youth Stakes (gr. II), in which he flipped his palate and lost his air, and the Kentucky Derby (gr. I), when he turned in an uncharacteristically lifeless performance that Croll feels he can explain, but "can't talk about." Like a competitive boxer, Holy Bull got up off the canvas both times and delivered first-round knockouts in his next start. In the Florida Derby (gr. I), he destroyed many of the same horses he had faced in the Fountain of Youth, romping by 5 3/4 lengths in a near-stakes-record 1:47.66. He followed up his Kentucky Derby debacle by toying with the best older horses in the country in the Metropolitan Handicap (gr. I), winning by 5 1/2 lengths in 1:33.98. Continued . . . .



Copyright © 2016 The Blood-Horse, Inc. All Rights Reserved.