Sunline Repeats as Australian Horse of the Year
Date Posted: 8/1/2001 9:42:36 AM
Last Updated: 8/1/2001 10:18:30 PM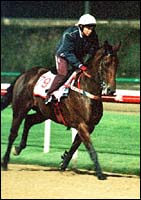 Sunline, repeated as Australian Horse of the Year.
Photo: AP Photo/Aziz Shah

New Zealand-bred mare Sunline became only the second horse in the 33-year history of the awards to be named Horse of the Year in Australia twice. The honor marked the seventh time in the last 10 years that a horse bred in New Zealand took home Australia's top honor.Sunline, a daughter of Desert Sun--Songline, joined another New Zealand-bred, Might and Power, to win the award twice. Might and Power was Australia Horse of the Year in 1997-98 and 1998-99.In addition to Horse of the Year, Sunline was voted champion filly/mare and champion middle distance horse. Despite her success with three wins in as many starts at distances up to seven furlongs, Sunline was denied the champion sprinter honor, which went to Falvelon. Sunline and Falvelon are expected to face each other Aug. 18 in the Manikato Stakes at Moonee Valley, which was won by Sunline last year.With voting based on 142 votes in each category, except jumper where there were less, here is the list of Australian champions for 2000-2001 are:Horse of the Year
Sunline (NZ), (Desert Sun-Songline); breeders: Michael Martin & Susan Archer, 138 votes
(Next: Universal Prince-Aus – 2 votes)Seppelt Wines Champion Jumper:
St Steven (NZ), (Hula Town - Gabby), 29 votes
(Next: Leading Bounty-NZ – 18 votes)Yallambee Stud Champion 2-Year-Old:
Viscount (Aus), (Quest For Fame - Antwerp), 110 votes
(Next: Ha Ha -Aus – 21 votes)New Zealand Thoroughbred Marketing Champion 3-Year-Old
Universal Prince (Aus), (Scenic – Biscay Bird), 106 votes
(Next: Assertive Lad-Aus – 24 votes)William Inglis & Son Champion Sprinter
Falvelon (Aus), (Alannon – Devil's Zephyr), 112 votes
(Next: Sunline-NZ – 20 votes)Vinery Australia Champion Filly/Mare
Sunline (NZ), 139 votes
(Next: Informal, Rose Archway, Unworldly, – 1 vote each)Mitty's Champion Middle Distance
Sunline (NZ), 91 votes
(Next Northerly-Aus – 23 votes)Radio Sport 927 Champion Stayer
Brew (NZ), (Sir Tristram – Horlicks), 81 votes
(Next: Diatribe-Aus – 17 votes)



Copyright © 2014 The Blood-Horse, Inc. All Rights Reserved.