Baffert Reflects on His Road to the HOF
by Esther Marr
Date Posted: 8/11/2009 5:25:57 PM
Last Updated: 8/14/2009 10:40:19 AM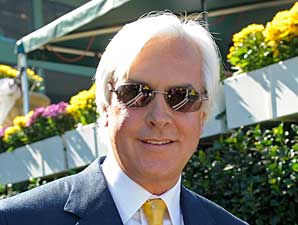 Bob Baffert
Photo: Anne M. Eberhardt
With both his parents by his side, Bob Baffert, the sixth winningest trainer of all time by money won, will be inducted into the National Museum of Racing and Hall of Fame at Saratoga Aug. 14. A three-time champion trainer, Baffert, who has three Kentucky Derby (gr. I) wins, four Preakness (gr. I) victories, and seven Breeders' Cup titles under his belt, enthusiastically reflected on his experiences in the industry during a National Thoroughbred Racing Association teleconference Aug. 11.
Here are some of Baffert's thoughts leading up to his Hall of Fame induction:
On two-time champion trainee Silverbulletday also being inducted:
"It's important the horse is getting in. I really didn't do much. (The horses) are the ones that do all the work for us. Silverbulletday is well deserving and going in (to the Hall of Fame) at the same time as her is great, because I met (her owner) Mike Pegram through Hal Earnhardt, and still have them as clients, and they were with me from the very start and stuck with me through good times and bad."
On his many successes in the industry:
"We've had a lot of success. Our barn attitude is to win the big ones, but have a great time, because you're going to lose more than you're going to win."
On the fact his parents will both be present at the Hall of Fame ceremony:
"My parents and family are all coming up Thursday (from Arizona). My clients have chartered a flight just to bring them. To me, that will be the most emotional part--seeing my parents sitting there. I hope I can keep it together, because (horse racing) was my dad's dream, he loved the animals, and he got me involved in horse racing, so without him, this would have never happened. My mother told me (my father) has been on a diet since he heard about (my Hall of Fame induction). He says he wants to look good for my induction. I just wish I would have gotten on a diet.
"They're proud of their little boy. Racing keeps them going—watching those races and being supporters. They can't wait until I have a horse running. My dad is 86, but still always critiques the rides, the training, everything. It makes it fun for him."
On the turning points of his career:
"I had to struggle just to get to the level where I was with Quarter Horses….I think (working with Quarter Horses) really helped me come into the Thoroughbred business. I had to redo my whole way of training, thinking, handicapping. In Thoroughbred racing, you have to be part handicapper, part trainer, because you have to put the horses in the right places. There's so much more strategy involved with Thoroughbred racing. I'm still getting it…every year I learn more and more. I'm a much better trainer today than I was three years ago."
On his biggest influence, trainer Wayne Lukas:
"Wayne has always been an icon in the Quarter Horse business and Thoroughbred business. He turned each sport upside down…he brought in a lot of clients, a lot of big money. I've learned a lot from him, just the way he handles himself. I remember with Bob Lewis, I think he enjoyed putting us against each other. He knew the fire was there, and we were really competitive toward each other. There were a few years we would hardly talk to each other. But (Wayne) set the bar, and he set it pretty damn high, and you need someone like that to really get you going."
On the Kentucky Derby:
"As a kid, I used to watch it, but never really paid attention to it. I didn't really like Thoroughbreds in Arizona. They were just like little claimers. The better horses were the Quarter Horses. Thoroughbreds were a different world and I never dreamed I'd look in that direction. But showing up to the Kentucky Derby, and seeing my horse (second-place finisher) Cavonnier come down the stretch (in 1996), it's hard to describe, because you're not mentally prepared for it. When it happens, you say, 'what did I do to deserve this?' It's a very emotional race. This year, I (did the pre-race walkover) for the Derby, and I got really emotional walking with Pioneerof the Nile, because it brought me back to the days of walking up with my brothers with Cavonnier, and walking up with Bob Lewis with (1997 winner) Silver Charm. I got to the point where I could have cried. That's what that race does to you. It brings back your whole past—flashes of the times I was running Quarter Horses at little fair meets."
On making it into the Hall of Fame:
"I think everybody that's in the Hall of Fame adapts; you have to adapt constantly. When Charlie Whittingham, one of the greatest trainers, was getting up there in age, he kept adapting and winning until the very end, and to me that's the whole key right there. You have to deal with (the hard times) and not feel sorry for yourself. The reason I'm in the Hall of Fame is because I've always surrounded myself with a great staff. All my assistants, exercise riders, grooms, they work hard for me. When the horses win, they love it, because they're just as competitive as us. I'm in the Hall of Fame, but I consider all my people in the Hall of Fame."

Copyright © 2015 The Blood-Horse, Inc. All Rights Reserved.