Keeneland Reduces RNA Commission
Date Posted: 7/8/2009 5:48:04 PM
Last Updated: 7/9/2009 8:49:41 AM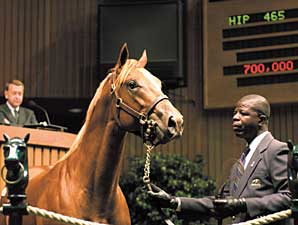 Photo: Anne M. Eberhardt
(Edited Keeneland press release)
Keeneland has reduced its sales commission on horses that fail to meet their reserves to 2.5%. The rate will be in effect for this year's September yearling and November breeding stock sales and the 2010 January horses of all ages sale.
The Keeneland sales commission for horses sold will remain 4.5%.
"Keeneland is the industry leader, and we stand with our clients in good times and in bad," said Keeneland president and CEO Nick Nicholson. "Given the current states of both the global economy and the Thoroughbred industry, our directors and trustees believe this is the right thing to do at this time.
"We feel it is important that there be no exclusivity; these are across-the-board reductions," Nicholson added. "Horsemen at all levels of the market are feeling the pain, and all should share in the benefits. Keeneland too is being impacted as the reduction will have repercussions for our operations as well."
Keeneland reduced its sales commission from the Thoroughbred industry standard of 5% to 4.5% in 2001. That reduction has returned more than $25 million to clients for reinvestment in breeding and racing operations.

Several of Keeneland's top consignors responded positively to the latest reduction.
"This is a great thing for our industry," said Seth Hancock, president of Claiborne Farm. "I applaud Keeneland for listening to horse owners and showing leadership in this difficult economic period."
"I think it's admirable that Keeneland has taken action to help sellers during these tough economic times," said Duncan Taylor, president of Taylor Made Sales Agency. "Keeneland is always at the forefront of doing what's best for the industry."
"I think this is a large gesture by Keeneland to help their client base through a very difficult time," said Eaton Sales partner Reiley McDonald. "This will make a big difference for all us who sell, particularly in this economic climate. It's just one more contribution by Keeneland to the breeders and the horse business, and I'm going to be among the first to applaud them for the change."

Copyright © 2015 The Blood-Horse, Inc. All Rights Reserved.