Musket Man Works Toward Haskell
Date Posted: 6/24/2009 12:16:29 PM
Last Updated: 6/25/2009 8:15:57 AM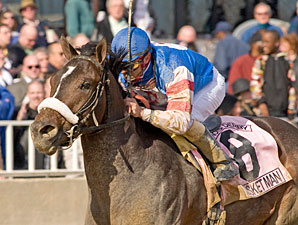 Musket Man will next be seen in the Haskell Invitational on August 2nd.
Photo: Four Footed Photos
(From Monmouth Park)
Musket Man, third in both the Kentucky Derby Presented by Yum! Brands (gr. I) and Preakness (gr. I) this spring, returned to the track June 24 as he starts preparations for the $1 million Haskell Invitational (gr. I) on Aug. 2.
"It was a good breeze for his first work back," Ryan said. "He came out of it in good shape."
Ryan said Musket Man is not scheduled to start before the Haskell, and will come up to the mile and an eighth feature on works alone.
"I'd like to breeze him on the turf next Wednesday (July 1)," the trainer said, "probably five-eighths. Then he'll have a one-mile breeze between races about two weeks before the Haskell."
Clockers noted that Musket Man looked good in his first work back, and galloped out strong. The :47.80 clocking was tied for second best of 41 half-mile works that morning, with two horses turning in drills of :47.60 handily from the gate on the fast main track.
"He ran huge and he came back great," said Rudy Wolfendale, assistant to trainer David Fawkes. "He's still on track for the Haskell."
This was the first victory of the year for Big Drama, who was disqualified after finishing first in the Swale Stakes (gr. II) at Gulfstream in March, and then ran fifth behind Rachel Alexandra after a world of trouble in the Preakness.
Big Drama has lived up to his name in his most recent starts. The morning of the Preakness he was cast in his stall, and then broke poorly in the race and never was able to get the lead from Rachel Alexandra.
And before the Charles Town race, Wolfendale said it took three days to get the colt reshod. Big Drama allowed his hind feet and right front foot to be shod, but then refused to cooperate with the blacksmith. The next day, the left hoof was shod (the colt wears glue-on shoes up front) and he breezed the same morning. The shoe came loose and the blacksmith put nails in to hold it for the race.
Copyright © 2013 The Blood-Horse, Inc. All Rights Reserved.