KEEP Rally Draws Nearly 1,000
Updated: Thursday, June 18, 2009 5:56 PM
Posted: Wednesday, June 17, 2009 3:23 PM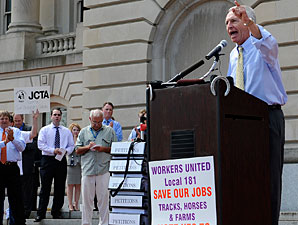 Photo: Anne M. Eberhardt
Kentucky Governor Steve Beshear rallies that crowd at the state capitol in Frankfort.
Nearly a thousand people traveled to Kentucky's state capitol in Frankfort June 17 to rally for a cause they have stood behind for years: to boost the horse racing industry by way of expanded casino gaming.
With a special session currently underway that could pass a bill that would allow video lottery terminals at Kentucky racetracks, the Kentucky Equine Education Project urged members of the horse industry to make their voices heard.
"If we wait to act a year from now (to pass this bill), there will not only be a number of our tracks closing, but there will be many thousands of jobs at the farms that will be gone," said former Kentucky Gov. Brereton Jones, chairman of KEEP and owner of Airdrie Stud near Versailles, Ky. Jones spoke from a podium on the capitol steps, as the rally crowd was too large to fit inside the rotunda.
Entire farm staffs, families with small children, businessmen and women, trainers, and jockeys, including this year's Kentucky Derby Presented by Yum! Brands (gr. I)-winning rider Calvin Borel, populated the front of the capitol. Many held various signs reading: "We Love Horses," "Horses=Jobs," "Horses Bleed Kentucky Blue," and "Save Our Racing Industry."
A little girl standing with her siblings and parents had large a sign taped to her chest bearing the words: "Don't Move Me to Indiana—Save Our Farm." A bus load of 50 employees from Ellis Park in Henderson was also present. Without the passage of the VLT bill, the racetrack will likely close as it cannot stay competitive with surrounding states with boosted revenue from slots.
Patrick Neely, executive director of KEEP, said the June 17 rally had nearly five times as many attendees as a 300-person anti-casino gaming rally that took place in the capitol rotunda the day before.
While those that are against the bill have said casino gaming at racetracks would require Kentuckians to engage in an "explosion of gambling," Jones said the statement is simply not true.
"In order to meet our projections of revenue to double our purses and greatly help our farming community that is dependent upon the success of this community, no Kentuckian needs to gamble a dollar more than they did last year," he said. "They only need, if they individually choose to gamble, to do it in Kentucky to help our own people."
Jones also expressed his disapproval of a proposal by Kentucky State Senate President David Williams to raise taxes on out-of-state wagers and put a 10% tax on all lottery ticket sales instead of VLTs.
"I would remind him that all the lottery proceeds go to educational scholarships for Kentucky's young people," said Jones. "Raising taxes on these tickets would reduce the available money for education. Together, if we are united as we have been for many months, we can get this legislation passed, and we will make this happen."
First Lady Jane Beshear, as well as her husband, Gov. Steve Beshear both gave their thoughts on the VLT issue.
Jane Beshear talked about the monetary impact of the thousands of people who are associated with and provide services to the horse industry.
"All these people contribute to the commonwealth through their money in how they live, where they work, the homes they have, and the taxes they pay," she said. "Do we want to lose that? The trickle-down effect (of this bill) is huge.
"Your job is to get the legislators to understand it's in their hands. Let's make our voices loud and clear."
Added Steve Beshear: "People have told me not to support this bill, because it won't win, and it will hurt my political future. But folks, I did it anyway, because this is not about politics. This is not about Steve Beshear's future; this is about the future of the commonwealth of Kentucky and its signature industry. This issue has been debated for a decade. It's time for an up or down, yes or no vote so we know where everybody stands when it comes to the horse industry."
Other prominent industry figures at the rally included jockey Jon Court; Keeneland president Nick Nicholson; John Asher, vice president of communications at Churchill Downs; and Rep. Susan Westrom.
The following are thoughts from some additional supporters of the VLT bill:
Patrick Neely, executive director of KEEP:
"Other states have passed this type of legislation to help their horse industries, but no state has passed a bill that has helped the industry as a whole and has given assistance to race breeds and non-race breeds alike. Attending this rally is an important first step to demonstrate our unity and our resolve on behalf of this issue. As a further show of support, today we're going to deliver over 12,000 signatures to the legislature. The most important thing you can do today is going talk to your legislator. At the conclusion of this rally, everyone move back inside the capitol. Let them see your faces; let them hear your voices."
Dallas Stewart, local trainer
"(The passage of this bill) totally affects me personally. If this thing doesn't get done and I don't get dates settled of where we're going to be next year, I have owners asking me what we're going to do. They're not going to come back her for four-day-a-week racing…I can't lose my business. We've got to be somewhere where there's money and there's racing. This is a very serious issue for us. If I have to pack up and move out, I'll do it. (Support for the bill) looks good, but we've got to keep rolling. It's just like a horse race."
Jockey Calvin Borel:
"We need to help this racetrack (Ellis Park) and keep it going and help the people who live here. I want to ride (in Kentucky); this is my home."
On how Kentucky's industry has changed: "When I was 10 or 12 years old, I would see a lot more people at the racetracks. Now, you don't see half the people you used to see. A lot of jockeys, trainers, and owners have to move from place to place. They spend so much money (traveling), and then they have a meet (Ellis) that only runs three days a week…that's tough."
Owen Ryan, Ashford Stud broodmare manager:
"(Without the VLT bill) there is going to be a reduction in the number of horses (at farms). That's going to have a follow-down effect. Farms are going to hurt, and there will be loss of employees. If the horses continue to leave the commonwealth, people are going to have to follow them, and it's going to be an overall downturn for everyone involved."
Ron Geary, owner/president of Ellis Park:
"People love Ellis. We've been racing 88 consecutive years, and all of a sudden this summer, this could be it. (The horse industry) impacts so many people's lives. It's an integral part of our fiber, and I think we somehow have got to convince our legislators that this (VLT bill) is not a bailout, not a guarantee, not a loan. All we're doing is asking to be competitive with surrounding states, who are trying to take our industry away from us."

FREE! E-Newsletters from The Blood-Horse!...
Follow the top stories of major racing events, racing previews and results with FREE e-newsletters from bloodhorse.com. As news develops, we'll deliver updates to your inbox. Follow important events moment by moment, step by step!