NTRA's New Ad Campaign: Pickin' and Maybe Grinnin'
by Lenny Shulman
Date Posted: 7/24/2001 11:23:35 AM
Last Updated: 7/24/2001 11:43:40 AM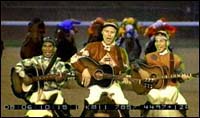 Guitar-playing jockeys featured in one of new NTRA ads.


The National Thoroughbred Racing Association, in partnership with ESPN, will roll out its 2001 advertising campaign exclusively on the all-sports network's family of channels beginning July 29. Between then and the Breeders' Cup World Thoroughbred Championships Oct. 27, the four commercials will air a total of 600 times. The initial three spots will have tags at the end promoting upcoming races on ESPN, the first of which are the Jim Dandy (gr. I) Aug. 4 and the Haskell Invitational (gr. I) the following day. Other ESPN productions include the Sword Dancer Invitational (gr. IT) Aug. 11, the Arlington Million (gr. IT) Aug. 18, the Pacific Classic (gr. I) the following day, the Travers (gr. I) Aug. 25, and the Kentucky Cup Sept. 22. The fourth spot specifically promotes the World Thoroughbred Championships, and is available for co-op use by racetracks.The 30-second commercials were produced by the BaylessCronin ad agency, and are aimed specifically at the 19 million "light and lapsed" racing fans identified by NTRA research. These are mostly men 18-49 who go to racetracks once or twice a year, but who are sports fans. The goal is to increase their interest in the races on the network as well as their desire to attend more live Thoroughbred action. Kenny Mayne, a popular ESPN personality and an avid racing fan, stars in the humorous spots as a guitar- and banjo- pickin' singing jockey on horseback. His poker-face delivery and crooning will have viewers forgetting Gene Autry, if they haven't already. The break-out star of the ads is likely to be jockey Jorge Chavez, who takes several hilarious turns as a riding troubadour. Chavez, who gained national acclaim this year when he won the Kentucky Derby (gr. I) aboard Monarchos, appears with fellow riders Aaron Gryder and Joe Bravo. The cowpokes are superimposed in front of scenes synchronized to the lyrics, including surfers, rollercoasters, stampedes, and chariot races.The off-beat spots, which keep the 'Go Baby Go' tagline popularized by Lori Petty in the NTRA's first ad campaign, are similarly likely to horrify the racing establishment but appeal to younger viewers. The NTRA plans to conduct studies before and after the spots are aired to measure their effectiveness.



Copyright © 2015 The Blood-Horse, Inc. All Rights Reserved.