Pollard Elected Churchill Downs Chairman; Company Reports Record Quarter
Date Posted: 7/23/2001 5:39:32 PM
Last Updated: 7/25/2001 4:26:10 PM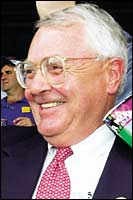 Carl Pollard, Churchill Downs' new chairman.
Photo: Mike Corrado

Kentucky native Carl Pollard will replace William S. Farish as the chairman of Churchill Downs. Pollard has served on the Churchill board of directors since 1985 and is the owner of Hermitage Farm near Goshen, Ky., a 680-acre farm built by close friend and past Churchill chairman Warner L. Jones. He has owned and raced Thoroughbreds since 1969."Through his involvement in the industry as an owner and breeder as well as his extensive business experience, he has established himself as an important guiding force for our company," said Churchill Downs President Tom Meeker. "Our board and our management team look forward to working with him in this new role."Pollard, 63, has a lot of experience with rapidly growing companies and shifting markets. He was instrumental in transforming a Louisville nursing home company called Extendicare into the $6.8 billion health care giant known as Humana. Pollard was president and chief operating officer for Humana from 1991 to 1993, and later chairman and chief executive officer of Galen Health Care--the hospital division of Humana that was spun off as its own company. In 1994, Pollard merged himself out of a job when Galen joined Columbia/HCA Healthcare.He bought Hermitage Farm in January 1995 and has worked full time since then developing his breeding and racing operation. He owns and races Caressing, last year's juvenile filly national champion and Breeders' Cup winner."I'm very flattered and honored that the board has elected me as chairman," Pollard said during a teleconference Tuesday morning.
"We have an outstanding and diverse board, and I feel Churchill has the most outstanding management team in the industry. I anticipate moving onward and upward with our business plan."The business plan includes major upgrades to the company's flagship racetrack in Louisville and continued expansion of Churchill's simulcasting network. Pollard said the company is well underway with its plans to renovate the racetrack."We are trying to figure out the best way to do a major renovation and a find a way to finance that," he said. "We may need some assistance."Financial assistance may be sought from the state as a tax break, he said.And while the company is on-target with efforts to increase on-track handle and attendance at its family of six racetracks, Pollard said real growth opportunities still lie with simulcasting. "I think our greatest opportunity is in the international market," he said.Pollard also said he strongly supports allowing alternative gaming, such as slot machines, at Kentucky racetracks. He spent last weekend at Delaware Park, where he ran Caressing in the Delaware Oaks (gr. III), and said he's seen how slot machines can be integrated with racing."I think Kentucky is in need of alternative gaming in order to compete with the riverboats and other forms of gambling," he said. "As to the probability of Kentucky getting that, I don't have a clue."Farish resigned as Churchill's chairman to assume the role of the United States' ambassador to England and Northern Ireland. He joined Churchill Downs' board of directors in 1985 and became chairman in June of 1992. During that time he has not only served as an officer, but enjoyed some of his biggest moments as a Thoroughbred breeder at the racetrack. In 1999 Charismatic, who he bred with Parrish Hill Farm, won the Kentucky Derby (gr. I). Last year his homebred Secret Status won the Kentucky Oaks (gr. I). Farish is owner of Lane's End Farm near Versailles, Ky. Most of the farm's day-to-day mangement duties will transfer to his son, Bill, during his tenure in England. "Mr. Farish's accomplishments as a breeder and owner of Thoroughbreds as well as his business acumen have been wonderful assets to the horse racing industry and our Company," Meeker said. "We benefited by his leadership, and we regret losing him as our chairman. The directors, management and employees of CDI are very proud that President Bush selected him the U.S. ambassador to the United Kingdom."Also on Tuesday, Churchill reported second quarter results that included record quarterly revenues, a new quarterly high in net income, and lower diluted earnings per share (due to a significant increase in the average number of shares outstanding)Churchill said record net revenues of $163.3 million represented a 24 percent increase over the $132.2 million for the same period last year. Net earnings for the quarter were a record $21.9 million, a 19.7 percent increase over $18.3 million in 2000. Diluted earnings per share totaled $1.66 on 13.2 million shares outstanding, compared with $1.85 on 9.9 million shares outstanding for the second quarter of 2000. (The 33 percent increase in average shares outstanding was due principally to the issuance of 3.15 million common shares for the September 2000 merger with Arlington International Racecourse, now operated by Churchill as Arlington Park.)Churchill Downs Inc. president and chief executive officer Tom Meeker, quarterly results show favorable year-to-year comparisons from Churchill Downs and Calder Race Course and a positive contribution from Arlington Park, which opened its 2001 live racing meet on June 13. He said Hollywood Park, which has been affected by the impact of the energy-related problems on the West Coast, benefited from having eight more racing days in the second quarter this year due to a shift in the calendar as those days were historically run in the third quarter."We believe the second-quarter results provide strong testament to the ongoing success of our operating strategy," Meeker said. "We not only are facing steadily increasing competition in other gaming and entertainment offerings but also are having to surmount the impact this year of the economic slowdown. We were pleased with the performance of Churchill Downs, which benefited from an increase of nearly 6 percent in wagering from the simulcast of its signal, as well as the first-time inclusion of Arlington Park for this period. Our simulcast vehicle, the Churchill Downs Simulcast Network, has become a vital contributor to the success of each of our tracks. CDSN markets all of our signals under a common brand, and we are benefiting this year from an increased marketing effort to raise the awareness of CDSN in the simulcast market as well as the addition of the Arlington Park racing programs."Meeker attributed the higher net income to a cost-reduction program within the company. He said Churchill is projecting third quarter earnings per share will range from 55 cents to 57 cents, as the company will benefit from a full three months of racing at Arlington."Our forecast for the full year remains for an approximate 20 percent increase in net earnings, up from $19.2 million for 2000," Meeker said. "We also continue to expect a moderate gain in diluted earnings per share for 2001 as a whole, in line with the percentage increase we realized in 2000 due to the higher number of average shares outstanding."



Copyright © 2015 The Blood-Horse, Inc. All Rights Reserved.