Papa Clem Turns in Final Preakness Drill
Date Posted: 5/12/2009 3:54:53 PM
Last Updated: 5/13/2009 10:38:35 AM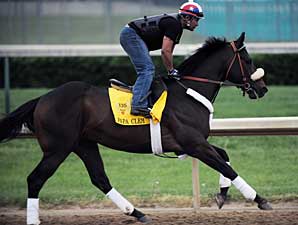 Papa Clem at Churchill Downs prior to the Derby.
Photo: Mathea Kelley
(From Pimlico)
"I was hoping for a faster time, but I'm not worried about it,'' said trainer Gary Stute after watching the move from the clubhouse box area. "The track may have been a little slow if you look at the earlier works. All his workouts before the Derby were bad except for the last one. Coming back from the Derby in two weeks, I just mainly wanted him to get a feel for the track."
"I never really thought of him as a Derby horse because he never really trained like one, but every time he's run, he's run a lot better than he trained," said Stute. "He's always kind of shocked me how good he ran off the way he worked."
Stute was at Pimlico with his dad, Mel, 23 years ago to witness his Preakness victory with Snow Chief, when the beaten Kentucky Derby favorite took the measure of Ferdinand, Broad Brush, speedball Groovy, and the favored D. Wayne Lukas entry of Badger Land and Clear Choice.
"I can remember about four jumps from the wire and he was about four (lengths) in front and I jumped on my dad and said, 'we did it,' " Stute recalled. "It was the maddest I've ever seen him, and I've done a lot of things to make him mad. He looked at me like we haven't crossed the finish line yet. Two seconds later he crossed the wire and it was all better. He's pretty superstitious.''
Stute said his father and mother will be coming to Baltimore to see if their son can match his father's feat of winning with his first Preakness starter.
Stute said that he has mixed feelings about the new shooter on the Triple Crown scene.
"Personally, for me, I think it's a little disappointing, but for racing I think it's great," he said. "I figure it should bring 20-30,000 extra fans here on Saturday. And when the husbands are watching the race at home, the wives will be watching, too. It's going to be great for racing. Racing is in kind of a downward spiral right now, and this can only help it in the long run."
"He came out of the work great. He galloped really well," said trainer David Fawkes.
Big Drama has blossomed since arriving at Pimlico last week, said Fawkes, an Illinois native who has been training in South Florida for 11 years.
"It does a lot for them. It helps to build their blood up. They get sharp and happy. They like that climate change. I've had a lot of luck shipping out of Calder. It's 90 (degrees) in Florida right now and 48 here. You move a horse out of that into cool weather and it makes a huge difference."
Big Drama, who will be ridden for the first time by John Velazquez, has finished first in his last six starts, but was disqualified and placed second after running a brilliant seven furlongs in 1:20.88 in the Swale Stakes (gr. II) at Gulfstream Park last time out.
Copyright © 2015 The Blood-Horse, Inc. All Rights Reserved.