Inside Track: Thanks for the Memories
by Deirdre B. Biles
Date Posted: 5/12/2009 10:11:37 AM
Last Updated: 5/13/2009 10:33:14 AM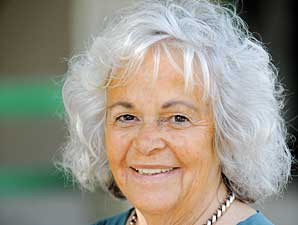 Marcia Taylor
Photo: Joe DiOrio

Meeting people was a big part of Marcia Taylor's job at Fasig-Tipton, and she never got tired of making new acquaintances during her nearly 30 years with the Thoroughbred auction firm. While overseeing sales and cataloging services, she performed a variety of duties, including taking entries, putting together auction catalogs and making sure they got to the printer on time, and working behind the counter in the sale office during auctions.

"It was very interesting because I dealt with all different types, from the big sales agencies like Taylor Made and Eaton down to the consignor that might have only one horse to sell in his entire life," said Taylor, who retired from Fasig-Tipton following its March 31 Texas juvenile auction. "There was a lot of personal contact, and I got to talk to people from all different parts of the United States and all over the world."

Occasionally, Taylor's work would bring her in contact with celebrities such as actor Jack Klugman, playwright/actor Sam Shepard, singers David Cassidy and Reba McEntire, and Academy Award-winning actress Sissy Spacek.

"Sam Shepard is a very nice person and is kind of low-key in his shirt and jeans; you could walk right by him at a sale and not even realize who he was," Taylor said. "Back when we had 2-year-old sales in Kentucky, Sissy Spacek was at one of those and I was so surprised because she was so tiny and petite. She wasn't much taller than I am."

A 66-year-old native of Louisiana, Taylor grew up on a farm. She rode in barrel-racing competitions, and her father owned Saddlebred show horses. In 1980 she joined Fasig-Tipton's staff in Kentucky.

"Marcia kept this thing together and kept me organized back in those days," said Fasig-Tipton chairman Walt Robertson. "She played a huge role in growing this company in Kentucky when the main office was in New York. We had only a handful of people in Lexington, and she was a big part of everything and continued to be right through until her retirement."

One of Taylor's former Fasig-Tipton co-workers was Geoffrey Russell, who became Keeneland's assistant director of sales in 1996 and was promoted to that company's director of sales in 2001.

"Geoffrey and I shared an office at Fasig-Tipton, and he was great to work with," Taylor said. "He had just come over from Ireland, and for the first couple of months, I could hardly understand a word he said, and I don't think he could understand me either with my Cajun accent. But after a while, we got to where we could understand each other, and we got along great."

Taylor also has fond memories of Larry Ensor, Humphrey Finney, John Finney, and John Hettinger, who all played important roles in Fasig-Tipton's history.

"Mason Grasty was a lot of fun to work with," she said. "When we had sales in Louisiana and he was head of our operation there, it was kind of laid-back. The sales were like big parties, and we would have roasted pigs, fried turkeys, and crawfish boils."

Fasig-Tipton's juvenile auctions were Taylor's favorites.

"I always got to go to the barns more at the 2-year-old sales, and I loved going to the track and watching the horses work," she said.

During under tack shows, Taylor's job involved getting information from a Fasig-Tipton colleague on the backstretch, via radio, about which horses were going to breeze and how far they were going to go. She also recorded the workout times and made sure Fasig-Tipton's director of marketing, Terence Collier, had the right information to announce.

Taylor probably never will forget The Green Monkey, who set a world record for a Thoroughbred sold at public auction by bringing $16 million at the 2006 Fasig-Tipton Florida select juvenile auction.

"I can still remember it; the price was $1 million, then $2 million, and then, all of a sudden, it was like $8 million," Taylor said. "Then, oh my God, it was $9 million, and it (the bidding) kept going back and forth between Demi O'Byrne and John Ferguson. We were astonished. It was unbelievable."

In her retirement, Taylor is spending time with her grandchildren, working in her yard in her new Lexington home, and traveling.

"Fasig-Tipton was good to me, and I have a lot of wonderful memories," she said. "I look forward to going to a horse sale and just sitting and watching and enjoying it. I think it's interesting to do my own calculations of how much a horse will bring. Sometimes I do OK, and sometimes I'm way off."

Visit the Inside Track archives here.



Copyright © 2015 The Blood-Horse, Inc. All Rights Reserved.