Hull to Skip Preakness; Smith Named Backup
by Steve Haskin
Date Posted: 5/11/2009 3:04:30 PM
Last Updated: 5/13/2009 8:17:13 AM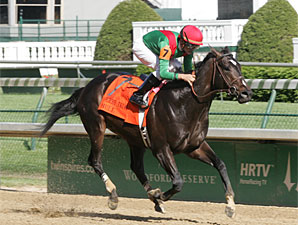 Derby Trial winner Hull will skip the Preakness.
Photo: Reed Palmer Photography
Derby Trial Stakes (gr. III) winner Hull, who is undefeated in three career starts, will bypass the Preakness Stakes (gr. I) and will run instead in the seven-furlong Woody Stephens Stakes (gr. II) on Belmont day. Also trainer Chip Woolley confirmed that Mike Smith will ride Mine That Bird if Rachel Alexandra runs in the Preakness.
"I don't like the way the pace scenario shapes up," said Barry Irwin, who owns Hull, by Holy Bull, with Heiligbrodt Racing Stable and Gary Barber. "I cannot see us getting the right kind of trip. I see there being too much pressure on him going two turns for the first time. I like this horse; he is training really well and I don't want to screw him up."
The defection of Hull leaves the Preakness with a less contentious pace. Only Big Drama and Tone it Down look to have front-running speed, along with Rachel Alexandra, who also likes to run close to the pace in a stalking position. Take the Points and Friesan Fire are others who prefer to do their running relatively close to the pace.
Hull's defection also gives Rachel Alexandra a better shot making it into the starting field, and also leaving an opening for the Marlyou Whitney-owned Luv Gov, who will only run if he doesn't exclude Rachel Alexandra.
Mine That Bird's trainer, Chip Woolley, confirmed May 11 that if he loses Calvin Borel to Rachel Alexandra, Mike Smith will ride the winner of the May 2 Kentucky Derby Presented by Yum! Brands (gr. I).
"Calvin will have the call on my horse right up to the time entries are taken," Woolley said. "If the filly is entered, then Mike Smith will have the mount. We've had talks with Mike and we decided it was the best move to have Mike on our horse if the mare is in the race. Mike watched the Derby. He saw how the horse ran and knows the kind of running style he has. We're confident that he'd do his job well."
Copyright © 2014 The Blood-Horse, Inc. All Rights Reserved.