Turf Star Happyanunoit Retired; Breeding Plans Undetermined
by Lenny Shulman
Date Posted: 7/20/2001 11:09:04 AM
Last Updated: 7/21/2001 11:24:57 AM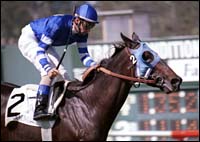 Happyanunoit, after winning the 2000 Beverly Hills Handicap.
Photo: AP/Benoit photo

Happyanunoit, who was being pointed to the July 21 Ramona Handicap (gr. I), has instead been retired due to an injury to an ankle ligament. "It's nothing real serious, but it would have taken a long time, it's an injury they don't come back from well, and I wouldn't want to put her through it," said her trainer, Bobby Frankel. "She had a tiny hole in her ligament under the ankle. She was a good horse to get along with."The 6-year-old New Zealand bred daughter of Yachtie has been a major player in distaff turf races since coming to America in 1999. She captured grade one races in each of her three years here, winning the Matriarch in 1999, the Beverly Hills Handicap in 2000, and the Gamely Breeders' Cup Handicap this year, all at Hollywood Park. She won a total of seven stakes, two in her native country and five in America, and earned a total of $1,582,118 for her career. Happyanunoit started 21 times, winning nine and hitting the board in all but four of her races."We had a lot of horses with Bobby Frankel," said her owner, John Amerman, "and Bobby called one day and said 'how'd you like to buy a grade I filly?' I said that sounded good, and he said, 'there's only one problem, the horse is in Australia.' But we decided it would be a good idea after looking at tapes. She had an awful lot going for her, so we bought her."Named after the children's sing-along, Happyanunoit would be accompanied in winner's circles by her owners and their friends clapping along to the beat of the song. In her final race, she finished a game second to Astra in her title defense of the Beverly Hills last month.Plans have not yet been made as to the mare's future home or to whom she will be bred.



Copyright © 2015 The Blood-Horse, Inc. All Rights Reserved.