Pincay Powers Hollywood Park Curtain-Closer
by Greg Risling
Date Posted: 7/17/2001 8:52:40 AM
Last Updated: 7/19/2001 10:17:33 AM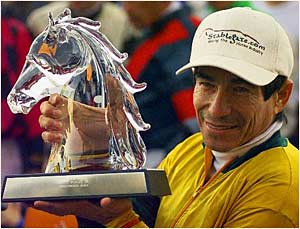 Laffit Pincay Jr., won Hollywood Park riding title.


After months of worry over the potential for power loss because of a statewide electricity crisis, Hollywood Park was energized by an exciting conclusion to its spring-summer meet Monday thanks to tight races for the jockey and trainer titles.Jockeys Alex Solis and Laffit Pincay Jr. dueled throughout the day. Pincay won the seventh race, then Solis scored a victory in the eighth race, the featured $100,000 Estrapade Stakes, aboard The Seven Seas to tie Pincay at 63 wins.Both jockeys had mounts in the last race. Pincay, 54, recorded his third win of the aboard Ride and Shine, who won by three lengths. Pincay has won three of the last four riding titles on the Southern California circuit, but it was his first Hollywood Park spring-summer title since 1991."I never thought at this point I'd even be fighting for leading rider, even winning," Pincay said. "As long as I keep feeling well and riding good horses, why should I retire?"The battle for the training title proved to be nearly as good. Bob Baffert trailed Jack Carava by one win, but pulled even after his only entry, speedster Gibson County, won the second race. Carava, who had four horses entered on the day, struck right back with favorite Kipper's Kitten in the third race to earn his first training title in Southern California.Carava was humbled by the accomplishment."There was a lot of drama today," said Carava, who registered 22 wins during the meet. "It feels great, but I am really happy for my crew. It has really been a team effort."Hollywood Park officials tried to remain positive about final attendance and handle figures for the meet in light of the power crisis that threatened to bring rolling blackouts. Average on-track daily attendance of 8,345 was down nearly 13% from 9,572 last year.The state's energy shortage also forced track management to move to earlier post times on Fridays. Without night racing, attendance for Friday racing dropped 41% from 2000."We are increasingly concerned that our core business is taking a daily hit from people who are not coming to the track and betting through other means," Hollywood Park president Rick Baedeker said. "We hope pending legislation in Sacramento will legalize account wagering in California and allow us to recoup those losses."On-track handle was down more than 7% -- $2.22 million this year compared with $2.06 million last year. But track officials were encouraged by overall average daily handle (on-track, intertrack, and interstate) of $10.1 million, which was only 2% off last year's record-setting number.



Copyright © 2015 The Blood-Horse, Inc. All Rights Reserved.