Giant Moon Shines in Excelsior Upset
Date Posted: 4/4/2009 5:56:50 PM
Last Updated: 4/7/2009 1:48:11 PM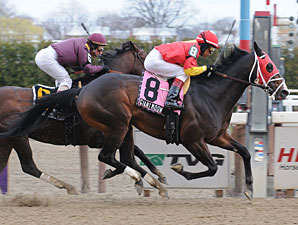 Giant Moon overtakes Cool Coal Man for the Excelsior win.
Order This Photo
Photo: Coglianese Photos
Al Fried Jr.'s homebred Giant Moon, a New York-bred with a second and a first in state-bred stakes in his previous two starts, wore down Cool Coal Man to post a game victory in the April 4 Excelsior Stakes (gr. III) (VIDEO) at Aqueduct.
The Excelsior turned into a two-horse race as Cool Coal Man assumed the early lead while being stalked by Giant Moon. The two continued to lead until the stretch when Giant Moon and Edgar Prado mounted a steady run, catching Cool Coal Man late to win by a half-length. Final time for 1 1/8 miles was 1:50.90.
The winner paid $29.40, $11.60, and $4.90. Cool Coal Man was worth $4.60 and $3.10. Favored Barrier Reef ran third, paying $2.40.
A 4-year-old son of Giant's Causeway produced from the Capote mare Moonlightandbeauty, Giant Moon has won six of 10 starts and earned $397,385. After winning two consecutive New York-bred stakes and the open Count Fleet Stakes as a 3-year-old of 2008, Giant Moon joined the Triple Crown trail. After finishing last in the fog-shrouded grade III Gotham, the colt was fourth in the grade I Wood Memorial and eighth in the Preakness Stakes (gr. I).
"It's so gratifying," said the Excelsior's winning trainer, Richard Schosberg. "I'm so happy for Mr. Fried. We've had all the patience in the world with this horse. This was a real team effort -- from the crew on the farm to the crew at Belmont. He had a phenomenal winter, healed up so nicely. The main thing is his feet right now look like the way (they did) when God put them on originally. Last year, after the Preakness, his feet got away from him. It was a great comeback.

"It was his third race off a layoff and he figured to move forward. He's not an easy horse to ride because he has a tendency to back off the bridle. Edgar is one of the greatest riders ever and I probably didn't have to explain a whole lot to him the way it turned out; it was a phenomenal job. The fractions were an advantage to the two front-runners – I would rather see that than have him stalking a forty-six and three pace. It worked out great. Now, he's a Grade III stakes winner with a lot of pedigree."
"He was close to the pace and he had a really good break and was in position every step of the way," Prado said. "I was very happy with what it was, and it was only a matter of time. They pace was fine, and I knew to stay close. I put on a little pressure, and I knew he would respond. He does everything so easy."

Copyright © 2015 The Blood-Horse, Inc. All Rights Reserved.