Justwhistledixie On Top of Future Wager
Date Posted: 3/15/2009 10:22:18 PM
Last Updated: 3/18/2009 7:34:29 PM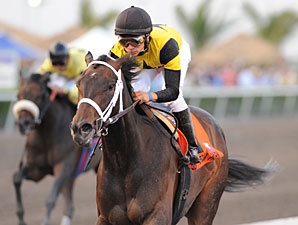 Davona Dale winner Justwhistledixie wound up the favorite in the Ky. Oaks Future Wager.
Order This Photo
Photo: Coglianese Photos
Edited press release
The powerhouse duo of champion Stardom Bound and Rachel Alexandra figured to be the top stories in the only pool of Churchill Downs' Kentucky Oaks Future Wager of 2009, but it was rising star Justwhistledixie who stole the show and ended up as the favorite over that duo as four days of Oaks Future betting drew to a close Sunday evening.

Justwhistledixie held on to the favorite's spot in Pool 2 of the Kentucky Oaks Future Wager despite an impressive victory by Rachel Alexandra in Saturday's $400,000 Fair Grounds Oaks and last week's win by reigning 2-year-old filly champion Stardom Bound in the Santa Anita Oaks (gr. I). But neither of that star duo could overhaul Justwhistedixie for the favorite's spot in the Kentucky Oaks Future Wager pool.

Rachel Alexandra, winner by an easy 1 ¾ lengths in the Fair Grounds Oaks, was the 3-1 third choice in the Kentucky Oaks Future bet when wagering concluded on Sunday evening. Stardom Bound, a winner of five consecutive Grade I stakes races, was the 9-2 third choice when betting on the March 12-15 Kentucky Oaks Future pool ended Sunday at 6:30 p.m. (all times Eastern).

The Kentucky Oaks Future Wager, $2 minimum wager and a "win" bet only, allows fans to wager on contenders for the Kentucky Oaks (gr. I), America's premier race for 3-year-old fillies, at odds that could be more attractive than those available on the day of the race.

The 135th running of the $500,000-added Kentucky Oaks (gr. I) is scheduled for Friday, May 1 at Churchill Downs.

A total of $72,628 was wagered during the Oaks Future bet's four-day run. It marked the second time the wager had been conducted in a single-pool format and the first since the wager's introduction in 2003.

Despite the impressive records of the top three fillies on the betting roster, there was solid support for the mutuel field, or "all others" betting interest, which closed at 7-1. That betting interest included all 3-year-old fillies other than the 23 individual horses in the pool had opened Sunday's betting at 9-1 and was 10-1 in the pool's morning line.

After the top four choices, odds were mostly long on Kentucky Oaks Future Wager contenders. Fitz Just Right, a winner of three of four races for McLaughlin who is coming off a win in the Ocala Breeders' Championships, closed at 22-1. Bon Jovi Girl, third in Sunday's Honeybee (gr. III) at Oaklawn Park, closed at 35-1. The winner of the Honeybee, the Larry Jones-trained Just Jenda, was a 54-1 risk at the conclusion of Sunday's betting. Haka, a solid runner-up to Stardom Bound in the Las Virgenes (gr. I), closed at odds of 30-1, while Elusive Heat, a 13 ¼-length winner in a Gulfstream Park allowance race last time out, closed at 28-1. Hollywood Futurity (gr. I) winner Laragh, third to Stardom Bound in the Breeders' Cup Juvenile Fillies (gr. I), was a 40-1 risk. Dream Empress, winner of the Darley Alcibiades (gr. I) at Keeneland and runner-up in the Breeders' Cup Juvenile Fillies, closed at 65-1 after she finished a disappointing sixth on turf in Sunday's $150,000 Herecomesthebride (gr. III) at Gulfstream Park.


KENTUCKY OAKS FUTURE WAGER – FINAL ODDS
#
Horse
ML
FINAL
$2 WILL PAY
1
Be Fair
20-1
48-1
$98.40
2
Bon Jovi Girl
20-1
35-1
$73.40
3
Devotee
20-1
73-1
$148.20
4
Dream Empress
15-1
65-1
$132.00
5
Elusive Heat
10-1
38-1
$78.80
6
Empressive Lady
20-1
99-1
$318.00
7
Fitz Just Right
20-1
22-1
$46.60
8
Four Gifts
20-1
76-1
$155.60
9
Frolic's Dream
20-1
99-1
$286.00
10
Haka
30-1
30-1
$63.00
11
Just Jenda
20-1
54-1
$110.00
12
Justwhistledixie
12-1
5-2
$7.60
13
Laragh
15-1
40-1
$82.80
14
Nan
30-1
39-1
$81.40
15
Our Dahlia
30-1
99-1
$227.20
16
Persistently
20-1
60-1
$122.60
17
Rachel Alexandra
5-1
3-1
$8.40
18
Renda
50-1
99-1
$342.20
19
Rock Candy
30-1
99-1
$203.80
20
Sky Diva
20-1
36-1
$74.20
21
Stardom Bound
9-2
9-2
$11.20
22
Third Dawn
50-1
39-1
$81.80
23
What A Pear
15-1
22-1
$46.80
24
Mutuel Field
10-1
7-1
$17.60
Copyright © 2015 The Blood-Horse, Inc. All Rights Reserved.