Mulligan Update: Stable and Progressing
by Deirdre B. Biles
Date Posted: 3/10/2009 2:27:07 PM
Last Updated: 3/11/2009 3:22:17 PM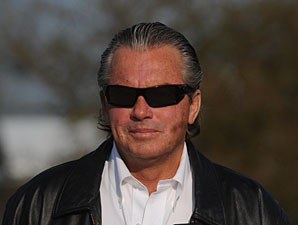 Mike Mulligan
Photo: Joe DiOrio
Mike Mulligan, a leading consignor at sales of 2-year-olds in training, was in stable condition, with a head injury, at Memorial Regional Hospital in Hollywood, Fla., March 9. Fasig-Tipton director of marketing Terence Collier reported March 10 that "they (doctors) are changing his medication levels today to raise him to the next level (of consciousness). All vital signs continue to be progressing."
Mulligan, who operates Leprechaun Racing with his wife, Britt, and is the president of the National Association of Two-Year-Old Consignors, suffered a fractured skull in a fall March 3 while waiting to be seated at a table at a restaurant following the Fasig-Tipton Florida select sale of 2-year-olds in training. According to Collier, doctors have not determined what caused Mulligan to lose consciousness and fall.
Meanwhile, Mulligan's wife issued a statement saying the family has been "overwhelmed" by the outpouring of love and support since h is collapse and during his hospital stay.
"I cannot say enough about our industry, especially our fellow two-year-old consignors and the people from Fasig-Tipton," Britt Mulligan said. "From the time we arrived at the hospital, I have been so thankful for the many friends and well-wishers who have come by, called, texted, and emailed."
Additionally, Mulligan said, "Jacqui de Meric has ordered silicone wristbands, custom made with shamrocks. The industry support has been sensational during this trying time, and we are very appreciative."

Copyright © 2015 The Blood-Horse, Inc. All Rights Reserved.