Continuing Down a Quality Road
Date Posted: 3/5/2009 7:16:06 PM
Last Updated: 3/11/2009 8:29:34 PM
by Alan Porter
When a stallion achieves success from a start at a modest stud fee, the "knock-on effect" comes with a delayed reaction. It's easy to gain the false impression that a sire isn't moving forward despite an improved books of mares because of the time it takes for these later progeny to reach the track.

Let's take the case of Elusive Quality . He retired to stand at a fee of $10,000 and covered his first four books of mares at that price. His first crop made an excellent start, with Elusive City capturing the Prix Morny Casinos Barriere (Fr-I) to earn a ranking as the French champion 2-year-old. Ultimately, Elusive Quality's 2000 crop yielded 11 stakes winners from 77 foals, including other graded scorers Chimichurri and Omega Code. Elusive Quality's second crop was less prolific with nine stakes winners from 88 foals, but in terms of quality it was even better, being headed by champion and Kentucky Derby and Preakness Stakes (both gr. I) winner Smarty Jones , champion sprint mare Maryfield, and other graded scorers Girl Warrior, Elusive Diva, and Elusive Jazz.

Keep in mind that Elusive Quality's first crop hit the track in 2002, and the quality of his second crop wasn't really apparent until Smarty Jones' 3-year-old season, which was in 2004. Serious improvement in the quality of mares bred wasn't seen until 2004 (foals of 2005), and more prominently the post-Smarty Jones year of 2005 (foals of 2006).

The Elusive Quality foal crop of 2004 – the first he sired at a fee of more than $10,000 – produced seven stakes winners, but none captured a North American graded contest. The story is different for the crop foaled the following year. This group was headed by English-trained Raven's Pass, a good 2-year-old who improved throughout his 3-old season to end the campaign with successive victories in the Totesport.com Celebration Mile (Eng-II), Queen Elizabeth II Stakes (Eng-I), and Breeder's Cup Classic (gr. I). If Raven's Pass's career arc showed improvement with age, the same can be said of two other members of Elusive Quality's 2005 crop. The colt True Quality took his first stakes, the Paumonok Handicap, at the end of January, and then followed up with a General George Handicap (gr. II) win over grade I winner Fabulous Strike that marked him as one of best sprinters in the East. The 2005 Elusive Quality filly Royale Michele gained her first stakes win in the New Year's Eve Stakes and then upset the Barbara Fritchie Handicap (gr. II) to gain a first graded stakes triumph.

Foals from the first Elusive Quality crop conceived after Smarty Jones's heroics have come to hand earlier. Even though they've only just turned 3, five of their number are stakes winners. Last year, Elusive Bluff took the Pilgrim Stakes (gr. IIIT), Evasive (GB) won the Mountgrange Stud Horris Hill Stakes (Eng-III) in England, and Honest Quality captured the Keep Able Star Stakes in England. The crop recently added two more black type winners. The filly Devotee, who took third in last year's Darley Alcibiades Stakes (gr. I), came good Feb. 26 in the Meydan City U.A.E. Oaks. Two days later, Quality Road routed what was supposed to be one of the most contentious fields of 3-year-olds assembled in 2009 to take the Fountain of Youth Stakes (gr. II) by 4 1/4 lengths.

While clearly outstanding at a mile, Quality Road's credentials as a potential Derby horse require scrutiny. Elusive Quality himself was a sprinter/miler with exceptional raw talent. He did win twice over 8 1/2 furlongs at 3, but his best efforts were at shorter distances. He was beaten just a nose in the seven-furlong King's Bishop Stakes (gr. II) at 3. At 4, he set a new track record for seven furlongs at Gulfstream Park, running the distance in 1:20.0. However, it wasn't until he switch to the turf at 5 that Elusive Quality became a stakes winner, capturing the seven-furlong Jaipur Handicap and the one-mile Poker Handicap (both gr. IIIT), the latter in a then world-record mile time of 1:31.63. Elusive Quality's sire, Gone West, was another outstanding miler, and has proved capable of siring top-class winners at anywhere from sprint distances to 1 1/2 miles depending on the influence of his mates. Elusive Quality's dam, Touch of Greatness, never ran, but had a blend of attributes in her background. Her sire, Hero's Honor, won the Bowling Green Handicap (gr. I) at 11 furlongs, but her dam, Ivory Wand, scored her most prestigious victory in the seven-furlong Test Stakes (gr. III). Ivory Wand's sire, Sir Ivor, won the Epsom Derby at 1 1/2 miles, and her dam, Natashka (who went on to become 1981 Broodmare of the Year), stayed well enough to take the 1 1/4-mile Alabama Stakes.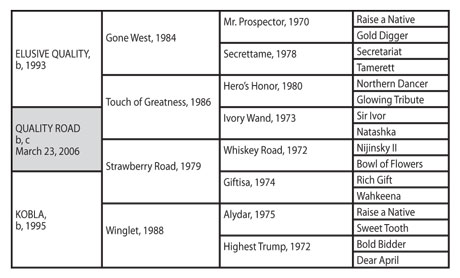 Elusive Quality himself has been predominantly an influence for speed at up to a mile, but, somewhat paradoxically, his two most talented runners -- Smarty Jones and Raven's Pass -- recorded their greatest triumphs at 10 furlongs. One would be inclined to argue that Quality Road's pedigree has more stamina in the distaff side than Smarty Jones or Raven's Pass. His dam, Kobla, never won, but she is a sister to champion 3-year-old filly Ajina, whose victories included the CCA Oaks (gr. I) at 1 1/4 miles. Strawberry Road (AUS), the sire of Kobla and Ajina, was an Australian-bred grandson of Nijinsky II. A champion at 3 in his native country, where he took several major events at 1½ miles, Strawberry Road subsequently raced in Europe, where he captured the Grosser Preis von Baden (Ger-I) at 1 1/2 miles and the Grand Prix de Saint-Cloud (Fr-I) at 12 1/2 furlongs. Sent to the U.S. at the end of his 6-year-old season, Strawberry Road took second in the Breeders' Cup Turf (gr. IT), and the following year won the Arcadia Handicap (gr. IIT).

Winglet, the dam of Kobla and Ajina, was by Alydar, who of course was second to Affirmed in all three legs of the 1978 Triple Crown. Winglet herself won the Princess Stakes (gr. II) at 8 1/2 furlongs, and was second in the La Canada Stakes (gr. II) at nine furlongs. To Theatrical (IRE), Winglet produced the good turf colt Rob's Spirit, winner of the Lexington Stakes and Saranac Handicap (both gr. IIIT). Quality Road's third dam, Highest Trump, a daughter of 1966 champion handicap horse Bold Bidder, was champion 2-year-old in Ireland and took the 1974 Queen Mary Stakes (Eng-II) at Royal Ascot. She trained on the following year to take third in the Irish One Thousand Guineas (Ire-I). She produced a pair of Irish group III winners by Northern Dancer – Dance Bid and Northern Plain – who both won The Tetrarch Stakes (Ire-III), with Dance Bid going on to take third in the Irish Sweeps Derby (Ire-I). Another brother to Dance Bid and Northern Plain, Jugah, was only stakes-placed, but subsequently did well as a stallion in Australia.

Whether or not this pedigree will carry Quality Road the 10 furlongs of the Kentucky Derby – should he prove good enough – remains to be seen. What we can say is that it represents one of the best structured crosses that we've seen for a while. Starting at the most elementary level, Elusive Quality has crossed very well with Nijinsky II-line mares – the cross is rated A++ by TrueNicks, and has already produced four stakes winners. In the center of the pedigree is a 4 x 5 duplication of Northern Dancer. In Elusive Quality, this is through Hero's Honor, who is by Northern Dancer out of a mare by Graustark; Strawberry Road's sire, Whiskey Road, is by a son of Northern Dancer out of a half-sister to Graustark. At the top and bottom of the second generation are Gone West and Winglet -- both are by sons of Raise a Native (Mr. Prospector and Alydar, themselves genetic relatives who combine very well together), and both are out of mares by sons of Bold Ruler who also have Princequillo close up in the dam. Gone West and Alydar also give crosses of the outstanding Calumet mare Two Lea, one through a Kentucky Derby and Preakness Stakes winner (Tim Tam) and the other through On-and-On, the sire of Kentucky Derby and Preakness Stakes winner Forward Pass. Finally, Mr. Prospector and Winglet are also related. Both are from the Raise a Native line, out of Nasrullah-line mares, and Mr. Prospector's third dam, Miss Dogwood, is a similarly-bred half-sister to Durazna, the fourth dam of Winglet. (For good measure, Elusive Quality is himself from that same Frizette family.)

Copyright © 2015 The Blood-Horse, Inc. All Rights Reserved.