California Racing Gets Aid From State
Updated: Monday, April 9, 2012 6:07 PM
Posted: Monday, March 2, 2009 9:57 AM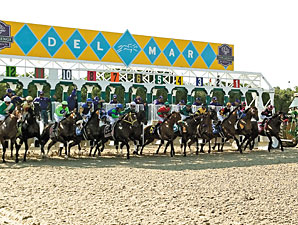 Legislation linked to the long-delayed approval of the California state budget Feb. 20 could mean up to an additional $32 million a year for the state's beleaguered horse racing industry.
The bill, which goes into effect July 1 for the 2009-10 fiscal year, transfers responsibility for funding the state fair system from license fees paid by racing associations on wagering revenue. Instead, the state's general fund will deposit $32 million each year, with the money going into the California Fair and Exposition Fund.
California horse racing contributed $33.8 million to the Fair and Exposition Fund in 2007-08. The budget for California Horse Racing Board operations, including equine drug testing, also comes from the fund.
"We've been trying to get this done for two years," Craig Fravel, executive vice president of the Del Mar Thoroughbred Club, said Feb. 26. "We found the opening (the state budget battle) and someone who was willing to listen."
Fravel, president of the newly formed California Racing Alliance advocacy group, was referring to Sen. Roy Ashburn, a Republican from Bakersfield. Ashburn was one of three Republicans who broke ranks with his party to end a six-day budget stalemate that had stalled a $96.3-billion spending plan in the legislature.
Ashburn's measure was signed into law by Gov. Arnold Schwarzenegger as one of several stimulus bills that arrived as part of the budget package. It ends a period of more than 70 years in which the pari-mutuel system for horse racing in California has paid for the state fair system.
The bill has been criticized in some quarters as a sweetheart deal for racing.
A spokesman for Ashburn countered that contention, saying the legislation was one of several pieces carried with the budget as part of an overall stimulus package for the state and "was needed to protect the industry."
"Racing affects 65,000 jobs," the spokesman said. "The senator wants to create jobs wherever we can, and that any part of California that can be helped should be helped. California racing is still a very big part of the state's economy."
Fravel said license fees, which are generated from takeout on racing's cut of the wagering through its on-track and simulcast facilities, had become an enormous burden. He explained that the shift in wagering in recent years to advance deposit wagering has made the weight greater because ADW is not subject to license fees.
"I don't want to say it's dying, but horse racing is struggling," Fravel said. "And the license fee is one of the things that is making it uncompetitive."
Funding the fairs through the general fund will put them on a firmer footing as well, Fravel noted. Because of declines in on-track and simulcast wagering and the shift to ADW, he said his group projects an additional $24 million to the racing industry through license fee relief in the first year.
That money would be split evenly between racetrack commissions and purses, with 3% going to breeders' awards in the case of Thoroughbred racing. The breeder splits vary slightly for Quarter Horse and Standardbred racing while splitting the remainder evenly between purses and commissions.
"It's short-term relief, but at best all it does is give us some breathing room," said Christopher Korby, executive director of the California Authority of Racing Fairs. "It doesn't address the long-term structural issues that we are going to have to deal with in the near future.
"The economic model of private racetrack ownership is broken because the property upon which those tracks rest is too valuable for racing. We've seen that with Bay Meadows, which is gone, and at Hollywood Park, where it is no longer a question of whether the track will close, but when."
In addition, Korby said "ADW is eroding the business of our satellite (wagering) facilities to the point of putting their long-term viability into question. At the same time, we're paying too much to ADW providers at the expense of those who are putting on the show."
The complicated bill requires that license fees from racing associations continue to fund the CHRB and the equine drug-testing program in accordance with a formula to be devised by the board in consultation with industry representatives. During the CHRB's monthly meeting Feb. 26 at Santa Anita Park, it was suggested that a committee be formed to derive the formula.
CHRB executive director Kirk Breed said the formula is vital to the board's operations because it will become part of the annual state budget process.
In 2007-08, the CHRB operating budget was just over $11 million, including more than $1.9 million for testing of urine and blood samples, which is conducted by the Kenneth L. Maddy Equine Analytical Chemistry Laboratory at the University of California-Davis. The projected CHRB budget for the upcoming fiscal year is $11.8 million, which includes a $300,000 augmentation for a one-time comprehensive analysis designed to establish racetrack surface safety standards.
Cliff Goodrich, a longtime industry representative speaking at the CHRB meeting, said racing "should not feel guilty" about license fee relief.
"I think this is a recognition of an industry in dire trouble," Goodrich said. "This industry needed this badly, and it may be the place to start (to enable the sport's recovery)."
FREE! E-Newsletters from The Blood-Horse!...
Follow the top stories of major racing events, racing previews and results with FREE e-newsletters from bloodhorse.com. As news develops, we'll deliver updates to your inbox. Follow important events moment by moment, step by step!