National HBPA, Stronach Work on Charter
Date Posted: 2/4/2009 11:46:14 AM
Last Updated: 2/5/2009 12:00:25 PM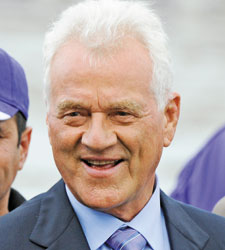 Magna Entertainment Corp. chairman Frank Stronach
Photo: Anne M. Eberhardt
from the National Horsemen's Benevolent and Protective Association
Magna Entertainment Corp. chairman Frank Stronach is advocating a charter for "horsemen's rights" and said his company, the largest in North America in terms of racetrack holdings, would work with horsemen to accomplish it.
Stronach addressed the National Horsemen's Benevolent and Protective Association board of directors Feb. 2 during the organization's winter convention in Hollywood, Fla.
Stronach, invited representatives of the National HBPA to meet with him to discuss the development of a charter for horsemen's rights similar to the employee's charter he established at Magna International in its early years. Stronach said he believes horsemen and racetracks are "50-50 partners" in the business of racing, and he advocates adoption of a charter for horsemen's rights by racetracks and horsemen that would solidify the partnership by "giving horsemen a lot of rights they don't have--especially stall allocations."
Stronach said racetracks couldn't be in business without the investment and effort of horsemen, and vice versa. Stronach said he understands other horsemen's investments, as well as the racetracks' investment. He said racetracks should have their books open to horsemen and claimed MEC would "go way out of the way to work with (horsemen)."
National HBPA president and chairman Joe Santanna said he would create a working group that will follow-up on Stronach's offer.
Copyright © 2015 The Blood-Horse, Inc. All Rights Reserved.