Azeri Bought Back for $4.4 Million
by Deirdre B. Biles
Date Posted: 1/12/2009 5:05:58 PM
Last Updated: 1/13/2009 11:25:27 AM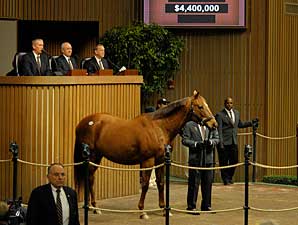 Azeri final bid of $4.4 million failed to meet her reserve.
Photo: Anne M. Eberhardt
Azeri failed to find a new home during the opening session of the Keeneland January horses of all ages sale Jan. 12 in Lexington. Michael Paulson, saying she was "like part of the family," bought back the 2002 Horse of the Year for $4.4 million. Last year, Paulson set a world Thoroughbred auction record when he bought back Azeri's s first foal, Vallenzeri (by 1992 Horse of the Year A.P. Indy), for $7.7 million at the Keeneland September yearling auction.
John Sikura, whose Hill 'n' Dale Sales Agency consigned Azeri to the Keeneland January sale for the Allen E. Paulson Living Trust, said he and his father-in-law, Edward McGhee, tried to buy the 11-year old Jade Hunter mare, stopping at "around $4 million." One reporter told The Blood-Horse she saw Jimmy Bell of Sheikh Mohammed's Darley America nodding at a bid spotter right before the price for Azeri soared to $4.3 million.
"It was extremely close," said Michael Paulson, who is a son of the late Eclipse Award winning breeder and owner Allen Paulson. "I thought she was sold when I saw $4.2 million because it was very, very close to the reserve. That's about all I can say without disclosing the reserve. When she went above $4 million, I thought, 'We've got her sold.' It just missed where we were. Unfortunately, we've been the victims twice now of the global financial market meltdown. But my father always said, 'When you've got quality, you want to keep it,' and, obviously, she's still the queen. If they (the buyers) saw her come up to the (sale) ring, she was on her toes; she thought she was going to race."
Azeri is in foal to 2004 Horse of the Year Ghostzapper, and fetal sexing has determined that she is carrying a filly, according to Paulson.
"We're going to talk to a few people and see if we can do a deal here shortly,"" said Paulson, who manages his father's trust. "But if not, we'll take her home and get that Ghostzapper foal. It was bittersweet; I was hoping to sell. But the good side is we still have her. In a good market, she would have gone for double what it (the final bid) went for today. We'll just regroup. She (Azeri) is a good asset to have in your Thoroughbred inventory."
Azeri won Eclipse Awards as champion older female in 2002, 2003, and 2004.
Vallenzeri is scheduled to be offered at the Keeneland April sale of 2-year-olds in training through Florida-based pinhooker Eddie Woods. Hill 'n' Dale was the consignor of Vallenzeri at the Keeneland September auction.
Following are Paulson's responses to other questions asked by members of the media:
Did the Vallenzeri RNA (buy-back) play a role in this (Azeri's buy-back)?
Paulson: "Unfortunately, with the Vallenzeri RNA, we were the first big horse to go through the ring. Based on the sales in 2006 and 2007, I thought we would very easily sell him in the high seven-figures, possibly the eight-figure, range. If we had sold him in 2006, I know we would have gotten that for him. Unfortunately, we didn't sell him, but the good thing is we've got him now. He's in training. He's doing fabulous. Everybody who sees him move says he is so fluid and he just looks like the real deal."
Do you think the buyers' confidence was damaged given the $7.7 million RNA for Vallenzeri?
"That could be. I can't speak for other people. But, obviously, if they were in my shoes and had a Horse of the Year -- the only living female Horse of the Year and only three-time Eclipse Award-winning champion mare ever – they would be in the same position I was in. I adjusted the reserve to reflect the market. She has a (high) value, and I was going to let her go for an extremely good value."
Is the trust that owns Azeri and other horses being dissolved?
"No, it's a living trust. I'm trying to get it into a position where we can wrap it up within the next year and a half. This is part of it. Orginally, I was going to put her (Azeri) in the (Keeneland) November sale, but I could see that the whole year financially could even get worse. I took a chance and put her in the January sale and put a very reasonable reserve on her for what she is."
Does the trust tie your hands when you are trying to deal with this bloodstock?
"A little bit. But also we have some other financial obligations. We have some bank loans that the horses are collateral for, so, actually, I had to collaborate with the bank on what the reserve was going to be. We set a very fair reserve, but we had to go with what the bank wanted because they have her as an asset, as collateral."
Will Azeri go back to Hill 'n' Dale Farms (near Lexington)?
"She'll go back to Hill 'n' Dale unless we put a sale together here in the next very short period."
Will all the trust horses have to be sold?
"Ultimately, yes, within the next year and a half. But I had to look at the global market. People were telling me it could even get worse. We took a chance, and, like I said, I thought she (Azeri) was sold. It was right up against our reserve. I know there are several people who are interested in possibly putting a syndicate together where they would buy portions of her."
Would you like to retain an interest in her?
"Absolutely. She's like part of family, but obviously this is a business for us. We have to treat it as a business, but when I look in her eyes, I see part of my family."
Is the plan still to offer Vallenzeri at the Keeneland April sale of 2-year-olds in training?
"We'll just have to see how it (the market) is. Obviously, when you have the quality of Thoroughbreds that we have, we're kind of setting the stage for the upper end of the market. You saw what happened to Island Fashion (who sold for $950,000 while in foal to Ghostzapper), a multiple grade I winner. When we saw that, we went, 'Ooooh no.' But, obviously, Azeri is in another league above Island Fashion, being a Horse of the Year and a three-time Eclipse (divisional) champion.
"He (Vallenzeri) is the only horse I've ever been involved with that has never taken one step backwards. From the day he was born, he's just been perfect all along. I think he's going to be a real super horse when he gets to the racetrack.
"We're hopeful. I talked to Eddie, and he said, "This horse (Vallenzeri) is just so fluid, and he moves like the real thing.' So, we're excited."
If you keep Azeri, who will you breed her to?
"Walking through (the sale pavilion) today, I've had several people say, 'Oh, if you get her back, bring her to our sire.' Obviously, she has a lot of suitors. But we'll make that decision later. She's going to have a late April, early May foal, so we'll make that decision in the next couple months unless we put a deal together, and that is very possible."
Will Azeri's Giant's Causeway yearling filly be offered during the Keeneland September yearling sale?
"That's the current plan. We went out and spent some time with her yesterday. She's just the spitting image of her mother. She's absolutely gorgeous."

Copyright © 2015 The Blood-Horse, Inc. All Rights Reserved.