Hall of Fame Ceremony Date Changed
by Esther Marr
Date Posted: 1/6/2009 5:00:53 PM
Last Updated: 1/8/2009 9:08:37 AM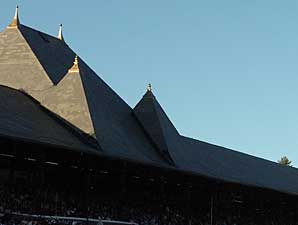 Photo: Coglianese Photos
The National Museum of Racing's Hall of Fame ceremony in Saratoga Springs, N.Y., which for a number of years has taken place on a Monday in early to mid August, will be moved to Friday, Aug. 14 this year.
Mike Kane, the communications officer at the museum, said the reasoning behind the decision was so the ceremony could take place the same day as the Museum Ball. Kane said the induction ceremony would start at its usual 10:30 a.m. time slot in Fasig-Tipton's Humphrey S. Finney sale pavilion, which is located just blocks from Saratoga race track.
"With one (event) being at the beginning and one being at the end of the week, it was felt that sometimes people connected to the museum had to make a choice of which weekend they could come to Saratoga for the festivities, so the idea was to put them both on the same day," Kane explained.
All of the Hall of Fame inductees will be invited to attend the ball the evening of Aug. 14. The event will be located at the National Museum of Racing and Hall of Fame across the street from the race track.
In addition to moving the induction ceremony, the $150,000 National Museum of Racing Hall of Fame Stakes (gr. II) has also been pushed to Aug. 14.
"This is something the trustees and ball committee decided to try," Kane said, "and we were able to have the race moved, which was important, because we wanted to have the race on the same day as the Hall of Fame induction. We were able to get use of Fasig-Tipton, and that of course was critical, so we decided to do that this year. Whether that's the final resolution of it (for years to come), I think it's too early to tell."

Copyright © 2015 The Blood-Horse, Inc. All Rights Reserved.