Sovereign Award Finalists Announced
Date Posted: 12/5/2008 5:00:41 PM
Last Updated: 12/6/2008 1:12:23 PM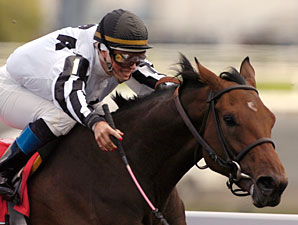 Mine That Bird is one of the Sovereign Award finalists in the 2-year-old male category.
Photo: Michael Burns
(Edited press release)
The Jockey Club of Canada has announced the finalists for this year's Sovereign Awards. Winners will be announced at the 34th Annual Sovereign Awards ceremonies at the Four Seasons Hotel in Ontario, Canada Dec. 12.
The finalists for this year are as follows:
2-Year-Old Female
Cawaja Beach
Laragh
Van Lear Rose
2-Year-Old Male
Mine That Bird
Southern Exchange
Utterly Cool
3-Year-Old Female
Authenicat
Ginger Brew
Sugar Bay
3-Year-Old Male
Fatal Bullet
Marlang
Not Bourbon
Older Female
Against the Sky
Akronism
Bear Now
Older Male
Ice Bear
Marchfield
Spaghetti Mouse
Turf Female
Callwood Dancer
Sealy Hill
Sugar Bay
Turf Male
Marlang
Rahy's Attorney
Seaside Retreat
Sprinter
Akronism
Disfunction
Fatal Bullet
Broodmare
Forty Gran
Kathie's Colleen
May Time
Breeder
Adena Springs
Gardiner Farms Limited
Eugene Melnyk
Owner
Bear Stables
Stronach Stables
Tucci Stables
Trainer
Roger Attfield
Mark Casse
Terry Jordan
Apprentice Jockey
Catherine O'Brien
Melaine Pinto
Janine Stianson
Jockey
Eurico Rosa Da Silva
Patrick Husbands
James McAleney
Copyright © 2015 The Blood-Horse, Inc. All Rights Reserved.