ADW Agreement Reached in California
by Jack Shinar
Date Posted: 11/21/2008 5:26:26 PM
Last Updated: 11/22/2008 8:51:15 PM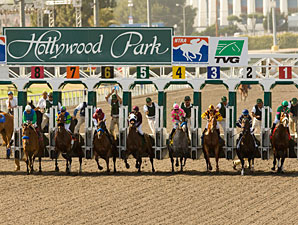 Photo: Benoit
An impasse in California over fee rates for interstate advance deposit wagering that has had a negative impact on Hollywood Park's fall meet ended Nov. 21 with the announcement that one-year deals with the four licensed providers in the state have been reached.

The end of the stalemate comes in time for out-of-state ADW bettors to wager on a double Pick Six carryover at Hollywood on the night of Nov. 21.

Drew Couto, president of the Thoroughbred Owners of California, which represented the horsemen in the slow-moving negotiations, said the agreements will cover out-of-state ADW wagering on races for all California tracks for a one-year period. The deal includes TwinSpires, XpressBet, YouBet.com, and TVG, which holds the exclusive television broadcasting rights for Hollywood Park.

Couto said the one-year period will give representatives from all sides the opportunity to assess the agreement "to make an evaluation going forward so that we can avoid these sorts of impasses in the future."

He declined to provide any details of the agreement. He said the deal, brokered through the TOC's national representative, the Thoroughbred Horsemen's Group, achieves its goal of the broadest distribution possible of the California ADW signal while addressing source market and host fee rates, which horsemen contended were unfavorable to the racing industry.
Couto credited the THG, of which the TOC is a founding member, for "getting this done." While the resolution applies only to California tracks, "It serves as a model" to possibly solve similar ADW disputes in other parts of the country, he added.

"This agreement represents substantial progress in achieving goals set by the THG, which are critical to fans and owners everywhere," said Marsha Naify, chairwoman of the TOC board, in a statement. "TOC and THG have steadfastly advocated for broader, non-exclusive distribution of our race signals for wagering purposes. A cornerstone of this accord is that it ensures non-exclusive distribution of our races signals so that fans can wager through the provider of their choice. But most importantly, we have made real progress in ensuring that purses receive a greater share of the revenues earned on ADW wagers."

In essence, the deal restores the conditions of an eight-month experiment in California account wagering that began with last year's Hollywood Park fall meet. Television rights to the state's meets will continue to belong exclusively to either TVG or HorseRacing TV, which handles Santa Anita and Golden Gate Fields.

Unable to get an agreement that all four ADW companies approved of, the TOC had recently settled into negotiations with TrackNet Media, which represents Churchill Downs Inc.'s TwinSpires and Magna Entertainment Corp.'s XpressBet. The dispute was costing California a reported $500,000 a day in ADW, which is the only growing segment of racing handle in the sport today. In anticipation of declining revenues, Hollywood cut purses by 6.25% when the fall meet began Oct. 29.
The California Horse Racing Board, under the urging of its chairman, Richard Shapiro, declined to approve re-licensing for the ADW companies at its meeting Nov. 18, increasing the pressure on them to get a deal completed. California is the largest account wagering market in the country.
The resolution comes in time for Hollywood's biggest three days of racing during the stand, the fall turf festival, which runs from Nov. 28-30.
The restoration of interstate wagering through account wagering companies also reduced the purse cut that will be required to approximately 5% overall, Hollywood Park said in a statement.

"The purse cut would have been far greater had account wagering not been restored," said Jack Liebau, president of Hollywood Park.
It is anticipated that this purse reduction will take effect on Nov. 26.
The pact ties host and source market fees to growth in ADW handle "to implement a more equitable distribution of existing revenues," TOC board member Pablo Suarez explained.

"We apologize to California Thoroughbred race fans everywhere for the inconvenience, disappointment, and frustration they endured while these fundamental questions were addressed, but TOC believes that this accord establishes a process by which such impasses may be avoided in the future, and that should be a relief to everyone," Couto said.
"TOC is grateful to the THG for its efforts on behalf of California, and owners everywhere. We remain committed to working with and through the THG in the future, as it has clearly proven to be a valuable advocate on issues vital to us all. We also wish to thank our track partners, chairman Shapiro and members of the California Horse Racing Board, and representatives of XpressBet, TwinSpires, Magna Entertainment, Churchill Downs and Youbet, all of whom worked hard to resolve the impasse."

Copyright © 2015 The Blood-Horse, Inc. All Rights Reserved.